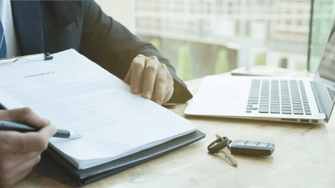 Once you've decided you're ready to purchase your next car, you may be tempted to go to the dealership right away. However, if you wait to shop until the time is right, you may be able to save money on your purchase.
After it's sat in inventory
If you're interested in buying used, Lora Shinn, a writer for The Balance, recommends looking at how long a car has been in a dealer's inventory. A dealer will likely lower the cost of a used car after it's been on the lot for about a month. Once a vehicle has stayed put for three or four months, she says the dealer may desperately want to sell it and be more willing to negotiate.
In the right month
During certain months of the year, you may find car prices tend to be lower, and according to Shinn, March is one such month. To prepare for newer models arriving on their lots soon, dealerships may have a greater need to sell current-model-year vehicles in March and potentially offer rebates. Zack Friedman, a contributor to Forbes, says many dealers make the transition to next year's models in October, so last year's models may come with more discounts.
Months with major holidays can also mean better deals on vehicles. For instance, if you wait to purchase a vehicle until the end of May, you can take advantage of Memorial Day sales, notes Friedman. November and December are also great for car shopping, according to George Kennedy, writing for U.S. News & World Report. Cars are more affordable in these months not only because of holiday deals, but also because dealers want to reach sales goals before the year is up. You can expect Black Friday, New Year's Eve, and New Year's Day in particular to have great incentives, he says.
On the quietest days
Whether or not you choose to buy in one of these months, there are specific days when a salesperson may be more likely to negotiate and offer a better deal. Friedman recommends visiting a dealer on a Monday since it will have fewer customers and more time to spend haggling the price. Similarly, he says Wednesday can be a good time to buy since customer traffic tends to slow down. According to Shinn, if you can shop in the morning on one of these days, it should be even less busy.
If you're only free to shop on the weekends, Shinn advises doing so when it's raining since other shoppers may avoid walking around dealer lots in bad weather. If a dealer has a monthly sales quota, they may be more willing to lower car prices near the end of the month to reach said quota. That's why she says it may be worth waiting to buy a car until late in the month.
If you shop at one of these times, you can potentially get the vehicle you're interested in at a more affordable price. No matter when you shop, though, it's important to keep an eye out for deals and compare costs to find something that suits your budget.