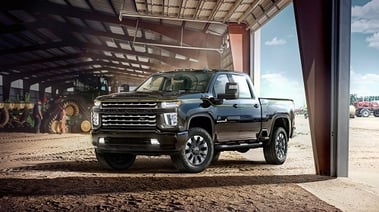 If you're shopping for a truck, you have no shortage of options available. Almost every major brand on the market sells some kind of pickup, and many automakers offer multiple trucks. The best way to narrow down your choices is to ask yourself how much truck you need.
When it comes to trucks for daily personal use, there are three categories: compact, full-size, and heavy-duty. The style of truck you choose will be based on what you expect to get out of it.
Compact trucks
Compact or midsize trucks have made a major comeback after largely disappearing from the market in the early 2010s. As the name suggests, compact trucks are considerably smaller in size than full-size pickups, which makes them more navigable and easier to park. Despite their smaller size, compact pickup trucks typically offer seating for up to five people, which can make them effective family vehicles.
The smaller size also means that a compact pickup truck can't do the same amount of work as a larger truck. This isn't to say that midsize trucks are slouches. The GMC Canyon and Chevrolet Colorado are both capable of towing up to 7,700 pounds and 7,000 pounds, respectively, when properly equipped, which is still ideal for towing smaller campers and boats.
Like larger trucks, midsize pickups are available with two-wheel and four-wheel drive and with different cab configurations. Most are body-on-frame, making them as reliable as full-size and heavy-duty trucks for active lifestyles. Certain trucks like the Toyota Tacoma TRD and Jeep® Gladiator are uniquely equipped for off-road use.
Full-size trucks
Full-size trucks like the Ram 1500 and Nissan TITAN are larger and more capable when it comes to towing and payload. The all-new Ford F-150 is the current reigning champion in both categories, offering maximum trailering capacity of up to 14,000 pounds and max payload up to 3,325 pounds when properly equipped. That means that a full-size truck is capable of doing almost twice the work of a compact pickup.
Most truck brands also offer high-end luxury-quality trims for their full-size trucks, with notable examples being the GMC Sierra 1500 Denali and Chevrolet Silverado 1500 High Country. A greater emphasis on interior quality and comfort also makes modern full-size trucks great choices if you have a growing family. Today's pickups typically offer seating for up to five with interior space and amenities comparable to a sedan or SUV.
Because full-size trucks are the bread and butter for companies like Ford, Chevrolet, and Ram, they also serve as showcases for premium features and technologies. Modern full-size trucks offer the most up-to-date infotainment and touch-screen systems as well as driver-assistive safety technologies.
The segment also continues to expand thanks to that same innovation. Later in 2021, GMC will launch its HUMMER EV supertruck, an all-electric pickup that combines exceptional power and range. In 2022, Ford will begin production on its electric F-150, and Chevrolet will follow suit soon after with an electric Silverado.
Heavy-duty trucks
Heavy-duty trucks like the Ford F-Series Super Duty®, Silverado HD, and Ram 2500/Ram 3500 are mostly made for one thing: hard work. Most likely, you wouldn't need a heavy-duty truck unless you plan to use it more for jobs like hauling and towing than daily driving.
The obvious benefit of a heavy-duty truck is massive strength and capability. The new Ford F-Series Super Duty, for example, achieves best-in-class maximum gooseneck towing up to 37,000 pounds and best-in-class payload up to 7,850 pounds. With this kind of power, a heavy-duty truck can easily perform on the job site.
But the larger size and focus on muscle makes heavy-duty trucks slightly less ideal for daily use. Though heavy-duty trucks are available with much of the same technology, luxury options, and interior amenities as their full-size siblings, their larger size makes them harder to navigate and less efficient.
If you're looking for a new truck, you won't lack for great options. The best way to figure out where to focus your search is to consider the things you want and need and do the diligence when it comes to research.