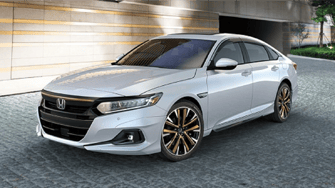 With crossovers, SUVs, and pickup trucks at peak popularity, a new sedan might seem harder to come by. Ford, one of the world's biggest automakers, no longer offers a single sedan in its lineup. But if you know where to look, you'll find there are plenty of great cars out there you can buy brand-new.
Compact sedans
Though small trucks and crossovers present affordable options for new-car buyers on a budget, a compact sedan is still one of the best bets for the money. You can find new compact cars for under $20,000 equipped with the latest in safety and connectivity technology as well as impressive fuel economy.
U.S. News & World Report lists the 2021 Honda Civic Sedan and Mazda3 Sedan tied atop the segment currently, with each offering a great value proposition. Honda recently introduced the all-new Civic Sedan, which promises up to 40 mpg on the highway. The Mazda3 Sedan balances performance and efficiency with its standard SKYACTIV®-G 2.0 engine and delivers standard driver-assist tech like Mazda Radar Cruise Control with Stop & Go.
Other popular compact sedans to consider include the Hyundai Elantra, Kia Forte, Subaru Impreza, and Toyota Corolla.
Midsize sedans
Midsize sedans remain a reliable option if you have a growing family, or want space to stretch out on the commute. These cars are preferable for their mix of power and efficiency, ample interior space, and wealth of standard features.
The midsize sedan segment is still quite competitive with names like the Chevrolet Malibu in the mix — though it will likely only be around for a few years longer. Mainstays like the Hyundai Sonata are in no danger of going anywhere; Hyundai is bolstering its midsize sedan lineup with its efficient Sonata Hybrid and first-ever Sonata N Line.
If a midsize sedan is more your speed, you can also choose from options like the Honda Accord, Nissan Altima, Toyota Camry, and Volkswagen Passat.
Large sedans
Large mainstream sedans are ostensibly the bridge between cars and SUVs and are thus a little harder to come by. Two of the sole remaining options — the Nissan Maxima and Toyota Avalon — continue to thrive by also acting as an affordable bridge to luxury vehicles.
Nissan hails its Maxima as a four-door sports car, offering 300 horsepower as well as a unique style that feels decidedly upmarket. The 301-horsepower 2021 Toyota Avalon offers luxury comparable to the automaker's Lexus luxury brand at a price below $40,000. Toyota also makes the Avalon more broadly appealing with options like all-wheel drive, a hybrid powertrain, and a sporty TRD trim option.
Another large sedan to consider is the 2021 Dodge Charger. The classic four-door muscle car continues to break new ground with its 707-horsepower Charger SRT® Hellcat Widebody, which is the fastest and most powerful mass-produced sedan in the world.
Luxury sedans
If you set your sights a bit higher toward a luxury car, you'll find there is no shortage of options. All of the major luxury brands — including Audi, BMW, INFINITI, Lexus, and Mercedes-Benz — are still producing luxury sedans in different sizes and styles.
The newest challenger in the luxury segment, Genesis, has come on strong with its three-sedan portfolio. The 2021 Genesis G70, G80, and G90 are among the most revered luxury sedans on the market today, earning several major accolades in their short existence. Among those top honors is the 2019 North American Car of the Year™, won by the G70 in its debut year.
You don't have to get a crossover, SUV, or truck if you're looking for a brand-new vehicle. There are still several great sedans available today that are ideal for different drivers and circumstances. Do some research, shop your local dealerships, and schedule a test drive or two to see what today's new cars bring to the table.