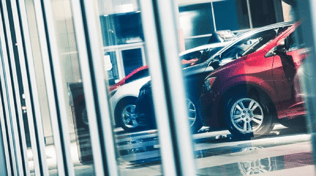 It's easy to get crossovers and SUVs confused. Some vehicles, like the Toyota Highlander and Nissan Murano, are referred to as both interchangeably. U.S. News & World Report, one of the leading resources for new vehicle research, lists several crossovers on its lists of the best SUVs. If you're shopping for a new vehicle and aren't sure which is the better choice for you, there are a couple points to consider.
What are the differences between crossovers and SUVs?
Because there seems to be so much overlap between crossovers and SUVs, it can be hard telling exactly what the differences are. It's largely a matter of construction — according to MotorTrend's Kim Reynolds, an SUV uses a ladder frame while crossovers use a unibody platform.
According to Reynolds, ladder frames use parallel rails connected horizontally by stiff connectors, giving it the appearance of a ladder. The body of the vehicle is mounted to this frame, making it a body-on-frame construction. As U.S. News & World Report contributor Steven Loveday notes, this has been standard since even before the automobile, having originally been used in horse-drawn carriages. The result is a strong, robust skeleton that enables powerful capability, which is why this kind of construction is used for pickup trucks and off-road vehicles, as well as SUVs.
A unibody, used in a crossover means the vehicle's body and frame are built on a single structure. The benefit of this approach, as Loveday points out, is a vehicle that's lighter and offers more passenger and cargo space. He also notes unibody vehicles tend to be safer because their impact-absorbing crumple zones are built into the vehicle.
Which choice is right for you?
Because SUVs and crossovers come in all different shapes and sizes, they have a lot of commonalities. Both tend to offer superior passenger and cargo space when compared with sedans, which is often important for vehicle shoppers. Both styles of vehicle can offer up to three rows of seating, making them great choices if you have a larger family.
As Loveday points out, getting an SUV is an ideal choice if you plan to do any major towing. Because the body-on-frame construction puts them closer to trucks, larger SUVs like the Ford Expedition and Chevrolet Tahoe can tow upwards of 8,000-9,000 pounds when properly equipped. This isn't to say, however, that crossovers can't do heavy lifting as well. The 2020 Dodge Durango, a three-row crossover, can tow up to 8,700 pounds when properly equipped, putting it just below the Expedition in maximum towing capacity.
The ability to go off-road is also typically an advantage of the SUV, but crossovers have gone a long way to catch up. The Ford Bronco, which launches in late 2021, is a purpose-built SUV that features standard 4x4 and class-leading off-road capabilities. However, Ford also makes capable crossovers like the Explorer and all-new Bronco Sport, both of which boast technologies catered specifically toward off-roading.
Ultimately, the best way to ensure you get the best vehicle for your needs is to do the legwork beforehand. Researching multiple different vehicles, reading consumer reviews, and scheduling test drives is a surefire way to find the crossover or SUV that does exactly what you want it to.