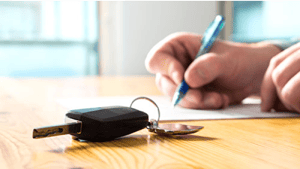 When it's time to buy a new car, you'll have plenty of decisions to make— such as figuring out what to do with your old vehicle. Most of the time, you'll have to choose between selling your car privately and trading it in at a dealership. Each option has its pros and cons regarding factors like convenience and selling price. To help make the decision easier, consider these points before taking the plunge:
Selling your car
Looking to get the greatest return on investment for your vehicle? Consider selling your car privately. However, you'll have to spend more time and invest more energy to bring this plan to fruition. When you sell your own vehicle, you'll have to deal with advertising and communicating with potential buyers. It's also important you're comfortable meeting and negotiating with strangers. According to J.D. Power's Jeff Youngs, many private buyers are thorough and discerning — so be prepared to produce documentation on the vehicle's accident history and maintenance records. Once the vehicle sells, you'll also have to handle all of the paperwork, which will involve a trip to your local Department of Motor Vehicles to have the title transferred to the new buyer's name. Overall, while all this effort may be rewarded with a higher selling price, it's likely to be a drawn-out process that could take weeks or months. Therefore, if you're trying to get into a new car as quickly as possible, you probably won't have time to sell your vehicle and use the money for a down payment.
Trading in your car
If you're in a hurry to recoup some money and get behind the wheel of a new car, trading in your car may be the best route for you. Unlike selling your car privately, trading your car in at a dealership is a quick and relatively hassle-free process. You'll be able to apply the vehicle's trade-in value towards the down payment on your next vehicle. And on top of that, in most states, trading in your vehicle offers a tax advantage. If this applies to your state, you'll just pay sales tax for the remainder of the new car's price after subtracting your old car's trade-in value. However, there are some downsides to trading in your vehicle. Convenience comes at a cost — you'll often receive less from a trade-in deal than you would have gotten from a private sale. Consumer Reports says you should expect to receive the estimated wholesale cost of your vehicle. However, this will vary based on your vehicle's make, model, condition, and maintenance history. You may have to shop around at several different dealerships before you receive an offer that you're willing to accept.
Deciding which is right for you
Ultimately, your unique situation will help you decide whether it's better to trade in your car or sell it to a private buyer. If you're selling an obscure model or a high-mileage vehicle that's a bit worse for the wear, J.D. Power recommends trading in your car at a dealership. However, if you're selling a popular, recent vehicle that's been maintained properly, you're likely to receive a decent selling price on the private market.
Need more help deciding which path to take? Discuss your options with friends, family or a financial advisor. It's also a good idea to research your vehicle's make and model online for more insight into its market value.