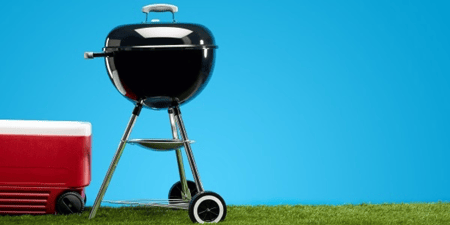 The weather is warming up and the days are longer, and that means it's time to get together with some of your closest friends and family for a good old-fashioned barbecue. If you're planning to host a cookout, there are some things you can do to make sure that it's a smashing success filled with fun, laughter, and of course, delicious food.

Set the scene

A successful barbecue isn't just about having a well-considered smorgasbord. It's as much about making sure that the space is accommodating and welcoming. For starters, MarthaStewart.com contributor Jenn Sinrich recommends making sure you have a firm idea of how many guests will be attending your cookout. With an accurate headcount, you can determine how many tables and chairs you'll need as well as how much food to prepare.

If your backyard is still recovering from winter or you just haven't had the chance to tend to it in a while, give the space the tender, loving care it needs. The TruGreen lawn care team recommends removing weeds two weeks before a get-together so that grass can begin to grow over the spaces, and to refrain from doing any watering within three days of your party. If you plan to mow, make sure you gather up all the loose clippings afterwards as well as any presents left by your pets beforehand.

Even if you're planning for the event to take place in daylight, make sure you're ready for things to spill over into dusk and even nighttime. String lights over the patio or deck, pathway lighting in the yard, and a dedicated fire pit ensure that you have good lighting to carry the party into the after-hours.

Prepping the food

Before you head to the grocery store, make sure you have all the equipment you'll need to throw a successful barbecue. AARP contributor Nicole Pajer recommends checking your propane tanks or making sure that you're stocked up on charcoal briquettes, wood, pellets, or whatever fuel source your grill uses. You should also take some time to make sure your grill and grilling equipment are all relatively clean — there's nothing more unappealing than eating food that's just come off a rusty, grease-caked grill.

With all the essentials in place, you can begin to assemble your menu for the event. Pajer recommends the three-course approach of appetizers and snacks, a main course, and dessert. You'll also want to be considerate of your guests and their dietary needs by asking if they have any food allergies or need a vegetarian, vegan, or gluten-free option.

If you want to simplify the prep process, it's also reasonable to turn your barbecue into something of a potluck. By having guests provide a particular part of the spread — be it alcoholic or non-alcoholic beverages, a breezy summer salad, or a decadent cheesecake — you can ensure there's plenty of food to go around and a little bit of everything to satisfy everyone's needs.

Putting together a successful barbecue comes down to setting the scene and having enough food, but the most important thing is the people. Make this opportunity count when getting together some of the people you care most about, and you may just find yourself being the go-to cookout host for summers to come.