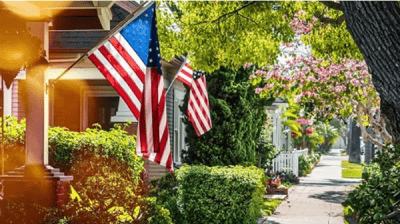 Summer will soon be here, with its extra hours of sun, warm nights, and opportunities to embrace the great outdoors. With a little patio prep, you can maximize the fun. If you're ready to transform your outdoor space for an unforgettable summer, check out these tips:
Add privacy for a secluded oasis
Neighbors are great, but sometimes you need privacy. To help ensure your backyard gatherings are as private as you want requires a bit of tinkering. A fence built on the sides of your patio will protect your space from prying eyes. For a less permanent and drastic way to block attention as well as create on-demand shade, install some curtains.
"Window treatments don't have to only go on windows. Breezy white curtains create a shady oasis when mounted on a porch ceiling," note Caroline Picard and Monique Valeris, writers for GoodHousekeeping.com
Create a multi-purpose environment
A bland, blank patio space can easily change into an inviting gathering area with comfortable furniture, a structure that provides shade, and a division of space.
"Make your patio or deck more appealing by first creating distinct and purposeful zones that pull people in, like a lounge, bar or outdoor kitchen and dining area," suggests Katie Friedman of HGTV.com.
Be sure to select furniture and items designed for outdoor use and rated for water resistance. You can create shade with an outdoor umbrella, canopy, or even a pergola, if you're willing to embrace a bigger construction project.
Flip on lighting sources
To extend the festivities well past the sun goes down, add some lighting to your patio space. You can incorporate a fire pit that performs multiple duties – a source of warmth, light, and of course, s'more-making. Stringing lights above or around your space will offer gorgeous illumination.
"Let the conversation linger well past dinner by adorning your space with bistro lights," advises Friedman, who recommends larger bulbs for a flattering glow.
Paper lanterns are a great option, too, according to Picard and Valeris. They add a bold focal point and touch of whimsy to your patio.
Layer in accessories
To create an outdoor space that feels more like an indoor space in your home, you need to layer in accessories. Just like a cozy rug anchors your home's living room or designates spaces in your great room, it can do wonders on your outdoor patio. Other items to consider to increase the beauty, comfort, and function of your patio include an all-weather outdoor hammock, throw pillows, and a container garden for adding color to your space, according to Grace Haynes, writer for SouthernLiving.com.
A throw rug isn't the only way to change up your patio's flooring, though. You can opt for tiles in a checkered pattern or lay down brick for a traditional and long-lasting upgrade, suggest Picard and Valeris.
Make it easy to grill
If you plan to grill a lot this summer, make the process as easy as possible. With tools close by, you can make grilling a more efficient and enjoyable activity. Friedman suggests using a classic, two-tiered bar cart.
"You can stick spices, spatulas, plates and condiments on the top shelf, where they'll be within arm's reach, and stash your lighter fluid and charcoal out of the way on the lower level," she advises.
These tips will help you make the most of your patio so you can get the most out of the summer season.