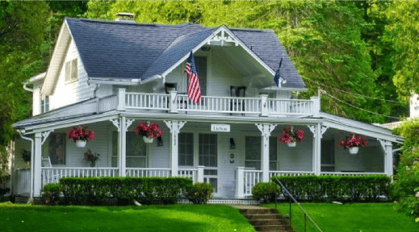 In the last year, many of us have found new ways to stay entertained at home. From building amazing blanket forts to finding great new board games to play with the family, there was a constant need for new and fun things to do. Now that the weather is warming up, there's an opportunity to discover some exciting yard games to play with the family. Check out some of the top-rated games to try out this summer:
Bottle Bash
If you want to test out your hand-eye coordination, Bottle Bash is the way to go. Two teams of two players face off to knock the other team's bottle off of their poles. The game comes with two poles with stakes, two non-breakable bottles, and one flying disc. Each team takes turns throwing the disc and gets points depending on how the bottle falls, if at all. For example, if you hit the pole with the disc and the bottle falls, you get 2 points; you get more points if you just hit the bottle and it falls. But you can also score points by catching the disc as it's thrown to you or if the other team drops the disc when you chuck it to the other side. Be sure to have plenty of space to play and put any breakable objects away when you add this fun game to your backyard.
Chippo
Golf meets cornhole with Chippo, putting your chipping skills to the ultimate test. This game is a golf lover's dream and was even given the Best New Product Award at the 2018 PGA Merchandise Show. But non-golfers can still enjoy Chippo thanks to its easy concept and setup. Whether you play in the backyard or take it to the beach, the premise is simple: Hit (or chip) your set of three balls to a board across from you that has holes in it. If your balls hit the board, that's called a Boardie and you get 1 point. If you make it into the large 3-Hole, that's 3 points. The smaller, harder-to-hit 5-Hole gets you 5 points while bouncing the ball off of a chipping mat before going into a hole gets you two times the points. The official Chippo board costs $189.95, but just like cornhole fans have made their own custom boards. The same can be done with this game.
Flickin' Chicken
University Games describes its Flickin' Chicken game as "Nine rounds of CHICKEN THROWING INSANITY!" Rather than throwing a disc to score points, you toss rubber chickens at a disc on the ground to win. But you have to be careful because depending on what side of the disc is facing up, there could be penalty points involved. The great thing about this game is that you get to decide how far to throw from. On top of that, you can also take this game inside on rainy days and make a small playing area to stay entertained. Flickin' Chicken typically goes for under $30 and comes with four rubber chickens, a target disc, a score pad, a pencil, and a rule book.
Spikeball
If you combine volleyball and four square, you'd get Spikeball. Using a small trampoline-like net and a ball, the game seems fairly basic at first glance. But there are no boundaries or set sides in Spikeball. Two teams of two work together — and move around in all directions — to bounce the ball on the net until someone misses and the ball hits the ground. The official Spikeball website sells a Rookie Kit for $59, which comes with a net, ball, carrying bag, and rule book. But once you've got the hang of things, you can upgrade to the 3 Ball Kit (self-explanatory) and Pro Kit, which comes with nicer balls and free registration to a Spikeball Roundnet Association tournament.
Summer is almost here! Get ready to have fun with your family by investing in any of these games for tons of fun and bonding.