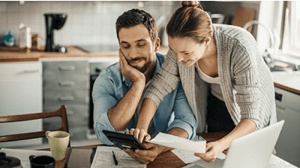 Many insurance policyholders like to sign up for coverage, set their monthly premiums to automatic payment, then put it out of their mind. But it's important to examine your policy from time to time to ensure that you're getting the lowest rates. Another way to save money on your insurance is to take advantage of something called "insurance bundling.
Defining insurance bundling
As U.S. News & World Report's Jim Travers puts it, insurance bundling is when you purchase more than one insurance policy from the same company. For instance, many people lump their homeowners and auto policies into one policy. Insurance carriers often refer to bundling as a multiple line discount or multi-policy discount.
How it benefits the carrier
Not only is insurance bundling a great option for you, the customer, but it also helps the insurance company as well. Per Travers, research indicates that policyholders who combine coverage tend to stay with the same carrier for longer.
How it benefits you
Discounts are the biggest reason to combine insurance policies under one carrier. According to Nerdwallet's Lacie Glover, you can obtain a 5-25 percent discount on each policy that you bundle. You'll likely save the most on your homeowners policy, because your home's value far exceeds that of your vehicle.
Bundling your insurance is advantageous especially if you're a high-risk customer and you tend to submit a lot of home and auto insurance claims. The Balance's Emily Delbridge says a carrier will be less likely to try to drop you as a customer if you have multiple policies with them.
When all of your insurance policies are with just one carrier, it's easier to keep track of policy details and stay on top of payments, as Investopedia's Daniel Myers shares. And since many auto insurance companies have apps to help you manage your policies, you can download just one app instead of multiple ones.
Smart strategies to getting a great rate on a bundled policy
If you have yet to bundle insurance policies, there are a few things to keep in mind to make sure you're getting the discount you deserve. For starters, shop around to find the best discounts on bundled policies, as Delbridge advises.
Regularly re-evaluate your bundled insurance policy to avoid rate creep. Glover recommends doing this every other year, or whenever you see a rate increase of 10 percent or more when the time comes to renew your policy. It's also a good idea to re-evaluate your policy after you experience a major life change or drastic change in your credit score, since these two circumstances can cause your premium to increase.
Save money on your insurance premiums when you combine separate policies into one. It's a simple way to get the coverage you need while reducing your rates.