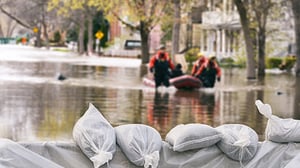 Recent events have made it clear that businesses can live and die on preparedness for disaster. According to the Federal Emergency Management Agency, between 40 and 60 percent of all small businesses succumb to disasters like fire and burst water pipes, not including a far-reaching health crisis or major weather catastrophe. When uncertainty is the norm and one natural disaster can put your business on the brink, make it a point to stay prepared and protect your life's work.
Know what your risks are

The United States Small Business Administration recommends analyzing which potential disasters pose the greatest risk to your business. Depending on where your business is located, you may have to contend with hurricanes, earthquakes, tornadoes or wildfires — if you have more than one location, you may have multiple risk levels. Knowing what your greatest threats are allows you to formulate a checklist, put policies in place, and make certain your insurance covers you for the appropriate worst-case scenario. Once you have an idea of what you definitely need and address those concerns, you can create protocols for scenarios that are seemingly less likely and cover your bases even further.
Put your people first

One of the most crucial points of your disaster response plan is ensuring the safety of your team. John Swanciger of Inc., suggests drafting up a written plan for your staff that provides clear details on what to do and how to respond to an emergency. This should include a detailed approach to evacuating the building, including pointing out all the safe exit points, as well as a list of phone numbers and contact information to help mitigate a crisis.
Among the many lessons learned in the recent global crisis is the need for a backup plan if your team should suddenly need to go remote. Make sure that you have guidelines in place for your team if your business will allow them to do so. Talk to your employees to make sure they're properly equipped to take their work home in the event of a disaster, and if they don't have the means, work with them to help facilitate the process.

Work with your community

Sean Peek with Business.com astutely points out that your ability to withstand a natural disaster may be impacted by the ability of your neighbors and community. Because of this relationship, he recommends going outside of your box and becoming a leader in your community in disaster preparedness. Peek recommends talking about your preparedness on social media as it will help spur positive relationships with customers, clients and potential employees, and it may even help grow your brand. What's more, it will encourage other businesses and individuals to forge plans of their own, helping everybody in your community get on their feet more quickly when disaster strikes.

By being ahead of the curve with disaster and implementing a plan, you'll have the opportunity to keep your business moving and help others in the process. Volunteering and encouraging your employees to do the same when recovery efforts are needed will lift the morale of your community and entrench you as a valued neighbor and ally in tough times.

If you put the right plans into place, you don't have to become part of an unfortunate statistic. Preparedness for natural disasters and crises of all sorts allows you to better weather any storm, and helps speed up the return of sunnier days.