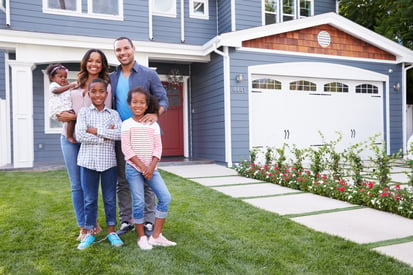 Owning a home is a large part of adulthood for many, but it can be daunting to think of everything that comes with the process of becoming a homeowner. From being financially stable, to accounting for possible emergencies, there are certain things to be aware of when it comes to purchasing a new house.
Consider all options
Before deciding to buy a home, consider your reasoning for making this choice. Take a long look at your lifestyle and see if making monthly mortgage payments, as well as other possible fees, fits in with what you enjoy doing. Gobel suggests doing the math before starting the home-buying process: "Before you practice making mortgage payments, give yourself a little financial elbowroom by subtracting the cost of your most expensive hobby or activity from the payment you calculated. If the balance isn't enough to buy the home of your dreams, you may have to cut back on your fun and games—or start thinking of a less expensive house as your dream home."
Determine what is affordable
Perusing home listing websites can be fun, but it can be difficult to discern what type of home is in your price range. There are a handful of factors to consider when finding that magical number to begin your official house search. The location of your future home plays a big part in the insurance and interest rates you will pay. Your income will also help you determine your monthly mortgage payments and how much of a down payment you can afford. Finally, when applying for a loan from a financial institution, your credit score also comes into play.
An additional thing to consider is whether you are ready to have a large debt attached to your name. Investopedia contributor and finance writer Reyna Gobel notes that most people put forth a 20 percent down payment to avoid paying private mortgage insurance, meaning the remaining 80 percent of a home's cost is tied to a loan that is typically paid off in 15-30 years.
After you have your price range narrowed down, you still need to factor in the costs of possible repairs or upgrades that may need to be done on the home. This includes any surprises that are not in your original plans to modify the kitchen or resurface the wood flooring.
Research the housing market
Mortgage rates rise and fall throughout the year, and knowing the best time to buy could save you thousands of dollars. According to Gobel, spring is likely the best time to shop for a home, as parents are often waiting for children to finish school before uprooting to a new location. By that logic, the fall is the worst time to buy a new home, as many have settled into their new houses at that time. Bankrate senior mortgage reporter Jeff Ostrowski confirms this by stating, "Annual home price growth is expected to increase by 4.1 percent by October 2021."
Use a mortgage calculator
Many sites like Investopedia offer mortgage calculators to help you start this process. Most work in a guess-and-check fashion, where you input the price of a potential house, the down payment, the loan term, and the interest rate or your credit score. From there, you will get an estimated monthly payment that includes principal and interest, property taxes, and homeowners insurance. While this is not a guaranteed way of knowing what you will be approved for when applying for a home loan, it is a good place to start, especially if you have no idea what your ballpark price range is going to be.
While this all may seem overwhelming, the more you dig deep and do the math, the more informed you will be when choosing to buy a new home.