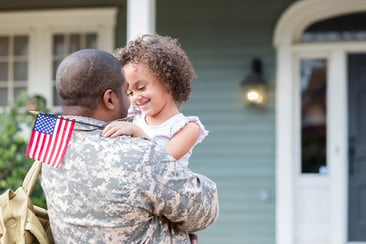 A VA loan is one issued by private lenders and backed by the U.S. Department of Veterans Affairs. It can help U.S. active duty service members, veterans, and widowed military spouses buy a home. VA loans are popular, because they offer a no down payment option and do not require mortgage insurance. They can be easier to obtain than a conventional loan, and represent around ten percent of the mortgage market.
More VA-backed loans originated in 2020 than in the two previous fiscal years combined, totaling more than 1.2 million loans. Homebuyers using VA loans increased by 11.4% compared with 2019, while homeowners who wanted to refinance using a VA loan surged by 241%! And 2021 is shaping up to be another significant year.
What if you are looking to build a house rather than purchase an existing one? Can you still take advantage of a VA loan? The short answer is yes, but it can be complicated. Construction lending presents a unique set of challenges, and many VA lenders avoid offering construction loans, due to the level of risk involved. So, these lenders are hard to find.
Many people have to obtain a separate construction loan from a builder or non-VA lender, then go through the process of refinancing into a permanent VA loan. Since construction loans are short-term, it becomes necessary to convert to a permanent VA mortgage once the build is completed. That means getting one loan at the outset, then refinancing it into another when your home is ready for you to move in.
The process can be complex and lengthy. But it doesn't have to be. First Federal Bank is proud to be one of the exclusive VA lenders serving the military community by offering single-close construction to permanent VA loans. We will work with you from start to finish, helping you build the home of your dreams. You can finance everything from the purchase of land, to construction of your new home, to a permanent mortgage for the finished residence.
A construction-to-permanent VA loan from First Federal simplifies the traditional construction loan by combining the construction financing and mortgage financing into one loan. You can finance 100% of your costs up to $1 million, while benefiting from a fixed rate. And during construction, the VA requires the builder to make payments. Your loan will be backed by the best-in-class service that contributed to First Federal being named one of America's Best Banks in 2021 by Newsweek.
We'll walk you through every step of the process. Find a loan officer near you to learn more today, and turn your dream of building a new home into reality!