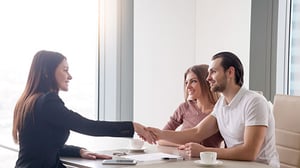 In many cases, home improvement is better than moving to another house. Building a larger garage, expanding a wing of your home or erecting an additional bathroom could be a much easier and more cost-effective way of adjusting your current home to fit your needs. A construction loan is the best way to pay for these renovations, and you have multiple types of loans to choose from.

Why would I need a construction loan?

If you plan on making home renovations, whether performing the work yourself or through a contractor, chances are you don't have a ton of money saved away to pay for all the expenses. And even if you do, it's not wise to empty your savings. A construction loan provides money for you to pay for home improvements without having to empty your accounts halfway through the project.

Beth Buczynski and Hal M. Bundrick offer this definition: "Construction loans are shorter term, higher interest rate mortgages that cover the cost of building or rehabilitating a house." They explain that these types of loans are paid to the contractor in installments to pay for renovations as each phase occurs. At the conclusion of the renovation, you either pay off the lender's loan immediately or as a mortgage that you repay in monthly installments.

Construction loans allow you to pay for expenses that arise pertaining to the land itself, as well as permits, planning, labor costs, materials, closing costs and other unexpected or emergency expenses that arise during the project.

What a single-close loan offers

A construction-to-permanent, also referred to as a single-close loan or an all-in-one loan, consists of a single loan application that lets you pay for your home renovations now by agreeing beforehand to make the repayment of said loan a long-term mortgage at a pre-established interest rate. Justin Pritchard of The Balance explains that in this process, "When construction is completed, your loan becomes a traditional mortgage."

Pritchard points out that this arrangement involves a lot less hassle by streamlining and simplifying the application, borrowing and repayment steps. You only apply for one loan, pay for closing costs once, have your interest rate locked early on and know what to expect when the project is over. Having these financial arrangements in place gives you certainty and security in case something unexpected happens during the construction.

Buczynski and Bundrick recommend getting this type of loan if you have a straightforward renovation project and want a predictable financial outcome once the work is complete.

What a two-close loan offers

Your other option is to take out multiple loans to pay for renovations: one to cover the construction project costs, and one to arrange the gradual repayment of the first loan.

While a single-close loan locks in your terms at the beginning of the project, utilizing a sequence of loans allows you to reevaluate your financial situation and options after the work is complete. Pritchard explains, "Keeping your permanent loan separate from your construction loan means you can search and apply for any loan you want — not just the limited offerings available to you from one lender." This could even result in you finding a better rate.

Buczynski and Bundrick recommend splitting your loans in this manner if you want to shop around for options, and you have the personal financial stability now to cover mid-project surprises and multiple closing costs.

Remodeling or expanding your home can be a great improvement to your life and the value of your house, but make sure that you select a loan that fits your needs and doesn't end up costing you more in the long run.