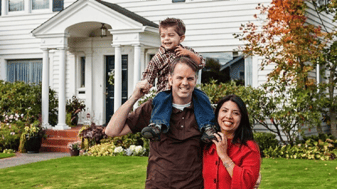 With the real estate market on fire, you might be considering selling your home. As the saying goes, first impressions are everything. The curb appeal of your home sets a clear standard of excellence. If you feel like your property could stand to pop a bit more, building curb appeal can be easy, affordable, and well worth the effort.
Tend to the yard
Even if your home looks immaculate, shoddy landscaping can hamper or even ruin the presentation. Overgrown grass, choking weeds, and patches of mud and dirt cut into the curb appeal, and drag down the overall aesthetic of your home.
Depending on your situation, landscaping can be as simple as spending an afternoon out front with the full complement of gardening tools. If you're on a schedule and want your lawn to pop before a showing, HGTV 's Lauren Kim writes you can purchase lawn paint to helps give it a rich, green sheen.
Gardens bursting with bright, colorful flowers are also great for providing a warm and welcoming atmosphere. Kim points out a well-maintained garden demonstrates a deep level of caring and appreciation for your home, setting the right tempo before a guest even walks in the door. To stay on top of your garden, you can refresh the mulch, which gives it a bold look and helps cut down on weeds.
Kim recommends annual flowers for your front-lawn gardens because they are affordable and can even be purchased in bloom. You could also plant different flowers heading into the autumn with seasonally appropriate reds, oranges, and yellows.
Update your front door
The last thing a guest or potential buyer will see before entering your home is the entryway and the front door. That's why, as Better Homes & Gardens writer Sheryl Geerts points out, this area is crucial for creating strong curb appeal.
Boosting the appearance of your entryway can be as simple as swapping out your old house numbers and lighting fixtures. You can replace your older, weather house numbers with a set that stands out more, which has the added advantage of making your home easier to find. HGTV writer Gretchen Roberts recommends considering the style of your home — you can find a set that matches the modernity or creates an interesting contrast.
Paying attention to your exterior lighting is also important, because it helps your home stand out when the sun has gone down. This means you'll want to consider the kind of bulb you're using and how they elevate the look of your entryway.
As important, if not more so, is the kind of fixture you pick. Kate Karam, writing for This Old House, notes there are many different options available. The right choice comes down to the kind of home you have — ranch-style lighting works well for mid-century homes, and Victorian lighting is an apt fit if you have a Queen Anne. You'll also need to consider the kind of finish —options might include aged or polished brass, matte black, or oil-rubbed bronze — which will hinge on other design choices.
Speaking of hinge, the front door is perhaps the biggest piece of your entryway puzzle. Kim recommends complementing your front door with a potted plant or two. You can also add a bit of sizzle by opting for a bolder color that contrasts with the rest of the home — think a passionate shade of red or an electrifying blue hue. Pair that with new knobs and locks and a welcoming wreath, and you've got a recipe for an adorable door.
Time, money, and effort spent in the interest of increasing your home's curb appeal are well worth the sweat. Even if it's just feeling a sense of contentment when you pull in after a long day at work, beautifying your home pays dividends.