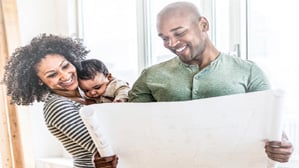 Looking to build a new home? Want to save time and money by only paying one set of closing costs? Consider a construction-to-permanent loan by combining the financing associated with your construction, renovation, or permanent mortgage – one loan, one closing, and one set of fees.
"Our one-time close construction loan can save our customers thousands of dollars in closing costs and gives them peace of mind that they are ready for their permanent loan once construction is completed," explains Cyndi Ray, Vice President, Regional Sales Manager at First Federal Bank. "Our simple loan process makes building your dream home both easy and affordable."
During the home construction phase, you'll only make monthly, interest-only payments. Based on where your property is located, you may also be required to pay a flood insurance premium as well. Once construction is complete, and your loan migrates to the permanent phase, you'll begin making principal payments.
When designing your dream home, take into consideration the following tips:
Find the right builder. Ask for referrals and tours of current homes the builder is constructing. Ask for, or look at, the builder's quality of workmanship, quality of materials, inquire about the builder warranty, research their reputation with local organizations including the Home Builders Association, and the Better Business Bureau.
Set a budget. Start by finding out how much you can afford – your First Federal Bank Loan Officer can help. Then work within your budget to design your dream home with both your designer and builder. Check with your builder to determine what is included in the base price, and what's not. Avoid making last minute upgrades or changes to the floor plan to reduce the likelihood of spending more than you've budgeted. With energy-saving systems available, know that these may have a higher up-front cost but the long-term benefits will likely balance out the investment.
Get the right type of loan. Construction loans differ from traditional mortgages because they provide funding for both the construction of the home and the permanent loan financing. Our Construction-to-Permanent Loan simplifies this process by combining these two items into one loan. You'll have one set of fees, one closing and one time to qualify for the loan – saving time and money in the process.
A copy of the construction agreement with your builder that details the cost of your home including options, upgrades and lot value, and if the lot is being purchased from the builder. If applicable, you will also need to provide:
A land contract for the lot on which your house will be built
A copy of the floor plan and front of the house
A deed to the lot
The lender will order a property appraisal, and will review your:
Income
Assets
Debts
Credit history
You'll be asked to provide documentation around the construction as well.
"The items needed to apply for a construction perm loan are very similar to any other mortgage – income documentation, bank statements, etc. – plus additional information on the land (such as a survey) and construction (plans, contract, specs)," said Ray. "Our skilled loan officer will walk you through the process of the mortgage, and set you up on the path of success in financing your home."
If you'd like to get connected to a Loan Officer near you, fill out this brief form and we will contact you within one business day.