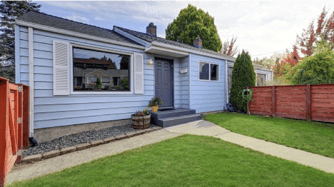 Your home is a major investment, and anything that goes wrong on your property could result in extensive repair costs. You don't want to find out when filing a claim that your policy doesn't cover what you thought it did — and you're stuck paying for repairs out of pocket. These are the four primary categories that most standard homeowners insurance policies cover:
The main structure
As you would expect, coverage for the primary building on your property is a fundamental component of a homeowners insurance policy — what Allstate refers to as "dwelling protection." This encompasses the basic, skeletal components of your house, like the foundation, walls, and roof. If ancillary structures like a garage or deck are directly attached to the home, those can be covered to an extent.
Kevin Mercadante of Money Under 30 points out your dwelling protection will only pay for you to repair or rebuild your home based on certain causes: fire, smoke, a hurricane, hail, snow, ice, vandalism, theft, select internal water damage, lighting, wind (which typically includes tornadoes), and similar storms. Damage from floods, earthquakes, and routine wear are not covered under dwelling protection.
If you need insurance for natural disasters like floods, you'll have to acquire a separate policy specifically for flood protection, such as one through the National Flood Insurance Program (NFIP) overseen by the Federal Emergency Management Agency.
Other structures on the property
If you have a garage, storage shed, gazebo, fence, swimming pool, or other structure that isn't directly adjacent to your home but still on your property, these can still be covered by homeowners insurance — as long as they're written into the policy.
According to the Insurance Information Institute, most standard homeowners insurance policies also allot about 10 percent of the amount of insurance you have on the structure of the house to unattached structures on the property. So, for instance, if you have $200,000 in dwelling coverage, you'll have $20,000 in coverage on a shed or pool.
If the size or value of these unattached structures exceeds your policy's standard allowance, you should consider expanding your policy with what American Family Insurance calls "scheduled structures" or "other structures blanket coverage."
Personal property
Those same qualifying risks covered by your homeowners insurance — like fire and theft — also cover the contents of your house. According to the Insurance Information Institute, "The coverage is generally 50 to 70 percent of the insurance you have on the structure of the house."
So if your electronics, furniture, appliances, or other major personal belongings are damaged in a qualifying disaster, you'll probably receive a certain allowance to pay to replace those. If they're not covered under your particular homeowner's policy, you can purchase extended coverage — which is recommended anyway for very valuable items.
Liability protection
You may not realize homeowners insurance actually encompasses more than just physical objects. It can provide financial support in certain lawsuits.
According to the Insurance Information Institute, "Liability covers you against lawsuits for bodily injury or property damage that you or family members cause to other people. It also pays for damage caused by your pets … Your policy also provides no-fault medical coverage."
The best way to determine if you have sufficient coverage for your property is to perform a thorough inventory of all your major assets on and off your property and present your findings to your agent. They'll help formulate a policy that sufficiently meets your needs.