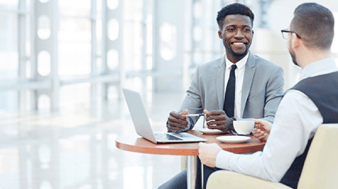 Temporary agencies can help your business fill short- and long-term positions while reducing your hiring workload. During busy periods of the year, such as the holiday season, temp agencies can be an invaluable tool for businesses in need of extra staff.
What is a temp agency?
Temp agencies, also known as staffing agencies, work with businesses to help them fill positions. "[They] interview, screen and test applicants and choose the best employee for you based on the list of requirements and skills you provide," Holly McGurgan explains in The Houston Chronicle.
Based on your requirements, a temp agency creates a job description and advertises it for your business. It may reach out to potential candidates it already knows if it believes them to be a good fit for the job. It then vets the candidate's experience and qualifications, schedules and conducts interviews, and chooses the most qualified individuals to introduce to your business's hiring manager. When this time comes, your business will have the final say on whether to hire the candidate.
When you use a temp agency, your business pays the agency and the agency pays the employee. According to journalist Nicole Fallon, agencies typically charge 25 to 100 percent of the hired employee's wages. "For example, if you and the staffing agency have agreed on a markup of 50 percent, and the new employee earns an hourly wage of $10, you will pay the agency $15 per hour for their work," she writes in an article for Business News Daily.
What can a temp agency do for your business?
By acting as hiring middlemen, temp agencies can help your business eliminate most of the time-consuming activities and paperwork associated with hiring an employee. An ongoing challenge for small businesses is ensuring they are neither overstaffed nor understaffed. Temp agencies can alleviate that issue by helping businesses cover for employees who are on leave or getting them extra hands during busy seasons. Temp agencies can also bring in new employees for businesses to trial for a permanent position. "If they decide that the employee is not a good fit, they can simply and easily end the employment contract," explains Patrick Proctor, senior professional in human resources. "If the employer likes them, they can easily extend an offer of employment."
Though you must pay the temp agency in addition to the employee, the flexibility it provides and its ability to quickly hire talent to suit your business's short-term needs may well be worth the cost. Additionally, temp agencies take on many of the legal responsibilities associated with being an employer.
How to work with a temp agency
Choosing a temp agency is not unlike choosing an employee. You need to find one that's right for your business. More importantly, you should make sure the agency has a strong reputation for good business practices and that it carries all of the proper insurances, such as general liability.
To get the most out of a temp agency, it is beneficial to clearly and thoroughly communicate what you are seeking in an employee. Fallon says that beyond discussing basic responsibilities and skills, you should also give the temp agency "an idea of your corporate culture and what kind of professional would succeed there."
Finally, as your business may repeatedly need to employ the services of a temp agency, it will pay off to maintain a good relationship with it.
For small businesses with fluctuating workforce demands, temp agencies provide a truly useful service. But before you begin working with a temp agency, make sure to fully examine the associated costs and how your business will benefit in return.