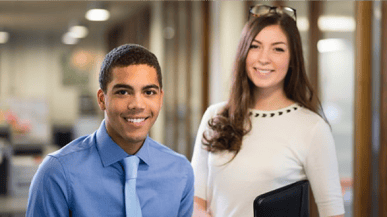 If your company undergoes fluctuations in business traffic every year, hiring temporary seasonal staff can be an excellent solution for gaining the extra assistance you need. Here are some recommendations from employment solutions experts on how you can navigate the process effectively:
Start looking early
If you want to attract qualified, hard-working candidates before other businesses take them, you have to begin the hiring process well before your busy season arrives. Startup Nation contributor Nav.com states, "Some major retailers have been starting their efforts earlier, meaning the pool of potential candidates in some spaces can quickly decrease as time marches forward."
Also give yourself enough time to train and familiarize new hires with your business before you anticipate the surge in customer traffic. Onboarding will be much smoother — for them, you, and your customers — if you aren't immediately throwing them into the deep end of the pool.
Post visibly and in detail
When advertising seasonal vacancies, make sure you have a clear idea of what types of candidates are best for the roles and where to find them.
Professional content strategist Rosie Greaves recommends using multiple recruitment funnels to find the types of candidates you want, such as your company website, online job boards, and walk-in applications. You can even ask your staff for referrals, post on social media, and contact local colleges.
Make sure the job opening is described in full, clear detail. "Are there bonuses for staying through the entire season? Will the seasonal job offer the potential for long-term employment? Are there specific requirements that may turn some people off?" These are all elements Nav.com advises you to address.
Always be clear about work schedules, time off, and compensation. You have a short time to find good candidates, so don't hinder your efforts by posting vague or misleading job descriptions.
Be prepared for their first day — and every day afterward
Have a detailed plan for how you'll onboard seasonal hires and how you'll orient them to your business' operations.
Start with a proactive approach to their first day. Have their paperwork prepared beforehand, as well as any uniforms or office supplies, including desk and computer setup. Email them a specific list of items to bring and what to expect on their first day. Know who will train them and what their orientation will cover.
Have a plan for what tasks you specifically want seasonal workers to perform every day. "Before they start, make a list of the duties you'll expect them to perform and then assign someone to show them how to do each task," recommends Janet Attard of Business Know-How.
Don't end the relationship
While you may have hired an employee with the intent to only keep them for a season, that doesn't mean you have to sever the connection entirely. If you've found a star worker who is a good fit on your team, keep in touch with them after their contract ends.
Greaves states, "Keep records of seasonal staff members who have previously worked for you, and keep in touch with them once a quarter." Maintaining connections can make filling seasonal openings easier next year.
You may even be able to convert that temporary arrangement into a permanent role. "Many of your seasonal workers will never be candidates for permanent positions," says Monster.com, "but some of them could be. Tag potential permanent hires early on, keeping close tabs on their performance. At the end of the season, evaluate their fitness for full-time employment."
Whether you need help around the holidays, or during the summer months, hiring seasonal staff can provide the extra hands you need.