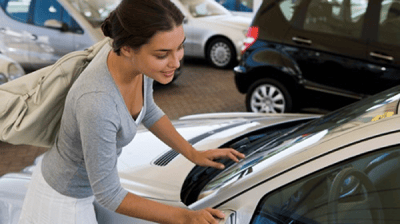 Purchasing a vehicle is a big decision, and the process can be overwhelming. To ease your mind and help you get started, here are some tips on how to find the best vehicle for your needs:
1) Set a budget
Before you start shopping for a vehicle, you need to know what you can afford. According to NerdWallet columnist Philip Reed, most experts recommend spending no more than 10% of your monthly income on a car payment, and no more than 20% on total expenses (including insurance, gas, and repairs). Many websites offer car payment calculators that help you calculate monthly payments, total interest, and more for potential purchases.
2) What do you need?
Now it's time to consider your major vehicle needs. In an article for Edmunds, Ronald Montoya notes you should consider basics like how many passengers you'll be carrying (and how big or small they'll be), how much cargo space and legroom you'll need, how you'll be using the vehicle, and the vehicle style you prefer (sedan, truck, SUV, van, and so on).
It's also a good idea to think about the kinds of driving you plan to do — for example, will you mainly be commuting on the highway, driving on narrow city streets, hauling big loads through the mud, or something else?
In addition, make a note of the features and attributes that are most important to you. These could include everything from high fuel economy and advanced driver-assistance technology to strong tow ratings and off-road or all-wheel-drive capabilities.
3) What do you want?
Knowing what you want is almost as important as knowing what you need. Even if you can make do without leather seats, premium speakers, a towing camera system, or a high-performance engine, your favorite features might be the difference between an enjoyable ownership experience and a vehicle you can't wait to trade in.
You might not be able to find a vehicle that fits your needs and budget while providing everything you want. But it's worth prioritizing your top wishes anyway. Even one or two features that improve your vehicle's comfort, convenience, exterior styling, or performance could make a big difference.
You'll also want to think about whether you want a new or used vehicle. New vehicles generally cost more, but have the advantage on mileage, condition, and up-to-date features. Used vehicles cost less, but you'll need to do more research to confirm their reliability and suitability.
4) Research your options
Once you have a basic sense of what you need and want, it's time to start researching available vehicles. To do this, you can visit local dealerships and check out their inventory, use online search and comparison tools from websites like Autotrader and Cars.com, or even use a service that will deliver a vehicle to your home.
5) Take a test drive
Whether you're comparison-shopping multiple vehicles or have your heart set on a specific model, a test drive is one of the most important steps to take before you commit to a purchase. Contact the seller and set up an appointment so you can experience the vehicle for yourself. During your test drive, pay close attention to how the vehicle accelerates, brakes, and handles on curves. You'll also want to note things like ease of entry and exit, seat comfort and adjustability, passenger and cargo space, and whether safety and connectivity technologies work properly.
Start your car shopping journey with these tips, and you'll be well on your way to finding a model that meets your needs, satisfies your wants, and fits your budget.