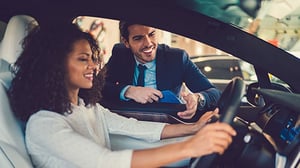 If your car is getting older, you may have started to think about buying a new one. But is it really the time to replace your ride? After all, new car envy can creep up at any time, and it isn't always rational. So if you've been thinking about buying that gleaming new SUV you saw at the dealership the other day, consider whether the following are true first.
Your annual repair bills exceed a year's worth of new car payments
At some point, every car owner is faced with repair bills, and the more the bills add up, the more you might wonder if it would be worth it to buy a new car rather than continue investing in a car that will just need more repairs down the line. According to U.S. News & World Report's Jamie Page Deaton, many car owners begin to think about replacing their car when bills begin to add up to a large proportion of their car's value. "But thinking that way is actually a costly mistake," he warns. "This way of thinking confuses a car's potential monetary value with its actual value."
If your car is on life support, the questions you should ask yourself are the following: How much does it cost to run and repair your car per year? And how much would it cost to pay off a loan and run a brand new car over the same period? Even if the repair bills are adding up, it's probably more cost-efficient to keep your old car over buying an expensive new one. If your annual repair bills exceed a year's worth of new car payments, it's time to replace your ride.
You want more safety
No matter the finances involved, if you've noticed you feel unsafe behind the wheel of your current car, you may want to start to shop around for a new one. New cars are significantly safer than ones even from the early 2010s, and many come with high-tech features that can help you avoid crashes altogether. A backup camera, side curtain airbags, electronic stability control and forward collision warning are all considered safety basics in modern cars. "Many of today's high-tech cars work to avoid crashes altogether, warning the driver about hazards and sometimes responding to threats quickly," Consumer Reports says. "Advanced systems can automatically slow or completely stop a car."
Additionally, consider that crash evaluation programs run by the Insurance Institute for Highway Safety and National Highway Traffic Safety Administration become stricter every year. This means that even a 2010 car with a five-star safety rating is unlikely to be as safe in a crash as its 2019 equivalent.
You really want the newest connectivity features
If you want to listen to Pandora®, Spotify® or your own custom playlists, or use your phone in your car hands-free but are stuck with a cassette player adapter in your current car, it may be time to upgrade. Virtually all new cars come with Bluetooth® phone connectivity and a USB port, though most also come with a voice-activated command system, built-in navigation, and Apple CarPlay and Android Auto for enhanced smartphone connectivity. And it's not just connectivity features. "Even some basic cars now offer fancy stuff, like a heated steering wheel or cooled front seats, which were once exclusive to luxury cars," Consumer Reports says. "It sounds frivolous, but once you've grasped a heated steering wheel on an icy morning, there's no going back."
There are many reasons to buy a new car. If it comes down to finances, ask for an expert at your local financial institution to help you crunch the numbers.