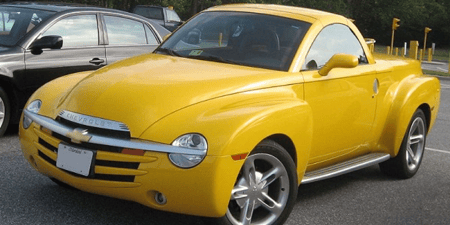 When it comes to car design, manufacturers often play it safe, sticking to tried-and-true designs and features that have worked in the past. But occasionally, they take a risk and create something truly unique and memorable. Here are some of the most unique vehicles made by mainstream manufacturers that are sure to turn heads:

AMC Pacer

The American Motor Company may no longer be a mainstream brand, but it was when the Pacer was developed. Produced from 1975 to 1980, the little car was a true icon of 1970s design. Its bubble-shaped body and large glass panels made it look like something out of a sci-fi movie, and its unique design was both loved and hated by car enthusiasts. The Pacer's style was ahead of its time, but it was also practical, thanks to wide doors that made it easy for passengers to enter and exit, and a spacious interior that contributed to a comfortable ride for long journeys. AMC is no longer around, but the Pacer is a cult classic.

Chevrolet SSR

The SSR was a retro-styled pickup truck produced by Chevrolet that perfectly embodies those mid-2000s styles we'd all like to forget. Its unfortunate design combined elements of a classic pickup truck with those of a modern sports car, and its retractable top made it one of the few pickups with a convertible option. Its distinctive front-end design, with a large grille and round headlights, made it stand out on the road, mainly for all the wrong reasons. Even though it had a Corvette engine under the hood, it was discontinued just three short years after getting its start.

Honda Element

The Honda Element was produced from 2003 to 2011 and was a game-changer in the world of SUVs. Its boxy shape and plastic body panels made it look like a rolling Lego set, and its versatile interior made it the perfect car for outdoor enthusiasts. With seats that could fold completely flat or be removed entirely, the Element could easily accommodate all sorts of cargo — from camping gear to mountain bikes. It was funky, functional, and undeniably cool.

Nissan Murano CrossCabriolet

The Nissan Murano CrossCabriolet was produced from 2011 to 2014 and was a daring departure from the traditional SUV. This convertible SUV had a unique silhouette that combined the best of both worlds: the practicality of an SUV and the fun of a convertible. Its sloping roofline and muscular body gave it an aggressive look, while its retractable roof made it perfect for sunny days. It was a bold move by Nissan, and one that paid off in terms of making a statement.

Volkswagen Thing

Yes, the "Thing." Even by its name, it's clear the car belongs on this list. It looked like it could conquer any terrain, even if it was just heading to the grocery store. Produced by Volkswagen from 1968 to 1983 for the German army, this two-door, four-seater convertible has remained an enduring icon of unconventional car design. It had removable doors and roof, plus an air-cooled engine, enabling the Thing to handle anything from off-road adventures to Sunday drives in style. Its distinctive flat windshield and round headlights are unforgettable.

These cars may not be for everyone, but they're certainly unique and memorable. They're the kind of cars that make a statement, whether you're driving down the street or parked at a gas station — and whether they succeed at making the right kind of statement or not, we can't fault manufacturers for trying something new.