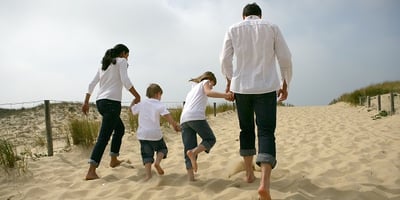 Family trips are a fundamental source of making memories. But, with everything going on, it's easy to miss so much! When you take on the role of family photographer, you're always behind the scenes. You're more of a witness than an active participant. Step out from behind the camera and let a professional photographer capture your next family trip — one that includes you! Here is a closer look at the benefits of hiring a photographer for your family's getaway:

Stress-free memories to keep

Remembering to stop and take a photo can be nearly impossible on a fast-paced vacation, especially when your loved ones like to move in different directions. A professional photographer can help coordinate group shots, individual snaps, and memorable moments with ease.

Plus, professional photographers have a keen eye for creating beautiful pictures with their knowledge of lighting, setting, and position. From staged to informal poses, they can capture incredible moments you might not notice.

According to Camille Meyers, writer for Expedia, "Professionals also have a wealth of tips and tricks to get kids to look at the camera and — gasp — actually smile. With a vacation photographer, you don't have to be a professional model to look like one."

Elevated results to cherish

A professional photographer offers a level of expertise that even the best amateur and highest end cellphone camera cannot replicate. And, it's not just in the setup or initial clicks. Professional photographers have the time and equipment to improve their shots for pictures you will want to share with everyone. "Professional equipment and the post-shoot editing process transforms great photos into showstoppers," reports Meyers.

Inside track for unique shots

If you are traveling to a locale you have never been to before or one that boasts a different language, you may feel like a fish out of water. Knowing where to go and understanding the culture of the location is priceless information your professional photographer has in spades. Plus, insider expertise can reveal one-of-a-kind experiences.

"Not all people want the same style shot, you have the opportunity to get insider knowledge to the area and discover some location you never knew existed," suggests Megsy, writer for Food Fun Travel.

In-the-moment pics for emotional memories

Having a stranger document your family's trip may feel unsettling at first. Your guard may be up and your smile may feel forced. But, give it some time, and before you know it, you will acclimate to the situation. Your photographer should make you and your family feel comfortable, which honestly can result in your most coveted snaps.

"With a vacation photographer, you don't have to interrupt candid, fun moments to try and get everyone to turn around and say cheese. Some of the best photos may be the ones where you didn't even know the photographer was clicking away," adds Meyers.

Hiring a professional photographer for your next family trip can help you capture unforgettable moments, noteworthy scenery, and memories you and your family can have forever. You'll have a record of your time together that includes you, too!