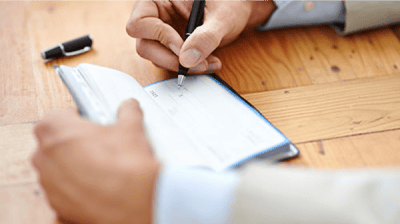 Advanced technology spurs financial fraud. As businesses find quicker ways to optimize the payment process through automation, active fraud prevention becomes necessary. Positive Pay is a tool to help protect your business.
Positive Pay reduces the risk of check fraud by validating checks issued by you through a transaction authorization system. It is a popular automated cash service that helps banks detect fraud by matching a company's issued check with the check presented for payment. The information must all match, or the check is flagged and sent back to the issuer for review.
The Positive Pay system helps protect an organization against losses, fraud, and other liabilities. To protect a business against altered, forged, or counterfeit checks, Positive Pay matches specific check data against a list provided by the company, prior to processing. This includes:
Dollar amount
Check number
Date
Account number.
In some cases, the payee is also included on the list. When any of the data fails to match, the bank will not clear the check. These types of security checks are required so a company never honors counterfeit checks that slip through the cracks.
When the information does not match and the check is rejected, the bank notifies the customer through an exception report. It will withhold payment until the company advises the bank to accept or reject the transaction. The financial institution can also:
Flag the check
Notify a company representative
Seek permission to clear the check.
If there is only a minor clerical error, the business can advise the bank to clear the check. Positive Pay enables businesses to stay one step ahead of criminals and protect its cash flow. It simplifies the check cashing process, helps a business reduce errors, and saves on labor costs.
First Federal Bank business customer Jan Smith from the City of Panama City loves the service. "Government agencies are tasked with the fiduciary duty of safeguarding taxpayer and user funds," she explains. "Positive Pay is a critical tool for government agencies. It is a cost effective and efficient way to ensure the checks presented for payment are authentic. It is the means by which we ensure our duty has been fulfilled."
Learn more about Positive Pay, and all of the benefits of business banking with First Federal Bank today!