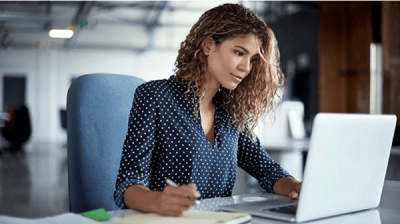 Business accounts help you separate your business finances from personal finances, which is an important step for protecting your private funds and avoiding trouble with the IRS. In fact, Financer.com manager Lorien Strydom says, "as soon as you decide to start spending or accepting money as a business, you should open a business bank account." But what do you need to open a business checking account? Requirements will vary depending on the financial institution of your choice, your business entity type, the state where you formed your business, and the type of account you are opening.
Choose a financial institution
Before you set out to open a new account, research and compare the options available to you. This will depend on the services you need. Will you want to connect your account with financial management software? Will you visit a physical branch to make deposits? What wiring, transfer, and payment capabilities will you need? What are the incidental fees, such as for overdrafts and nonsufficient funds?
There are many business checking accounts for new businesses that offer just the basic necessities with little to no fees. "To take advantage of an account with expanded features while avoiding fees, though, you may need an accurate forecast of how much money you'll be earning and spending on a regular basis," says Bankrate.com contributor David McMillin.
Personal identification
To open a business checking account, just as when you open a regular checking account, you'll need a form of government-issued identification such as a passport or a state-issued driver's license. Depending on the financial institution, you may need to bring two forms of ID — "such as a credit card or a utility bill with your name listed on it," says McMillin. You'll also need to provide your mailing address, Social Security number, date of birth, and contact information.
Employer ID number
In addition to your personal identification, you'll need to give the financial institution your employer ID number (also known as the federal tax ID number) that you have registered with the IRS. That said, NerdWallet's small business specialist Randa Kriss advises, "sole proprietors and single-member LLCs may be able to use their Social Security number" as a substitute for an employer ID number.
Beneficial owner information
If your business is a partnership, you'll need to provide the partnership agreement. Additionally, you'll need to disclose information for every owner that has at least a 25% stake of ownership in the business, which McMillin says makes them a "beneficial owner." This will include personal details and identification. "If you own the business with someone else, you'll need to determine how much equity each of you has in the company," McMillin writes.
Business formation documents
You'll need to provide the financial institution with business formation documents, which vary depending on the type of business you have set up. "If you're a sole proprietor, for instance, a business license and a registration of your trade name might be required," Strydom explains. For LLCs, you'll need articles of organization and an LLC operating agreement. You may also need to get a Certificate of Good Standing from your state that shows you've paid all the necessary fees. Your financial institution may ask to see other documents as well — for example, a certificate of assumed name if your company's legal name is not the same as the one you use to advertise your business.
Opening deposit
Before you can open a business checking account, most financial institutions will require you to make a minimum initial deposit. The deposit can range from $0-$1,000 depending on the institution and the features provided by the account.
Even though there's a lot of paperwork, setting up a business is an exciting time. Work closely with your financial institution of choice and with a financial adviser to choose the right kind of checking account and ensure you have the right documentation.