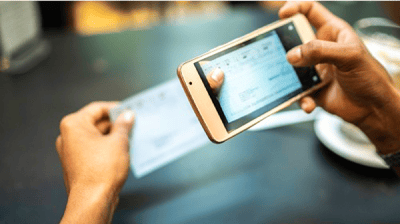 When you deposit money into your account via cash or check, it can take some time before those funds are available to you. If you've ever wondered why, the explanation is quite simple.
How do deposits work?
The concept of a financial institution deposit is fairly straightforward. When you have funds to add to a checking or savings account, you can take that cash or check to an ATM or to one of your financial institution's physical locations. Inserting the money into the ATM or giving it to a teller results in that money going into your account of choice.
You can also deposit checks into your account using your financial institution's mobile app. You'll need to take a clear picture of the check so all information is visible, and denote on the back the check is for mobile deposit only. These deposits tend to take a few business days to hit your account, but you may have the option to expedite the deposit for a small fee.
Checks can take longer to clear, The Balance contributor Miriam Caldwell notes, because they must be sent to a local clearinghouse before going to the check writer's financial institution, to ensure the funds are there. The funds must then be sent back to your financial institution. This can take upwards of 10 days.
To get around this, financial institutions may make funds available to you before a payment clears. If you spend this money, you're spending money that the financial institution is crediting you in good faith. Once a payment has cleared, it is fully in your account.
According to Investopedia Senior Editor Julia Kagan, your financial institution is liable to you for deposits because you are providing it with an asset. Deposits are secured by the Federal Deposit Insurance Corporation, typically up to the total amount of $250,000 per depositor per account.
Why aren't funds immediately available?
Whether you deposit cash, receive a direct deposit from your employer, or scan a check for deposit via your mobile app, it can take time for the money to appear in your account. The reason for this comes down to the kind of deposit you've made and the regulations tied to it.
Caldwell notes many deposits will in fact be immediately available in your account. Per the Expedited Funds Availability Act, most deposit funds must be made available no later than by the next business day. Examples include standard checks up to $225, government checks up to $5,000, in-person cash deposits, and direct deposits.
Caldwell notes there are cases where a financial institution can put an exception hold on a deposit that negates the next-day availability rule. An exception hold can add anywhere between one and eight extra days depending on the circumstances. If you make a deposit of more than $5,525 using any funds, the financial institution can opt to hold it for up to eight additional days to help lessen its risk of losing money.
Holds are more common with checks because there's a greater possibility that the money might not clear. The Balance contributor Justin Pritchard notes these holds are also to your benefit as they can prevent you from spending money you didn't receive because a check bounced.
Another cause for delayed availability may be the time of deposit. Next-day availability applies to the business day, and Caldwell notes the cut-off may vary depending on your financial institution and your method of deposit. This might typically be 5 p.m., but some entities will set the close of business earlier to ensure all work gets processed by midnight.
If you have questions about deposits, fund availability, and hold times, check with your financial institution.