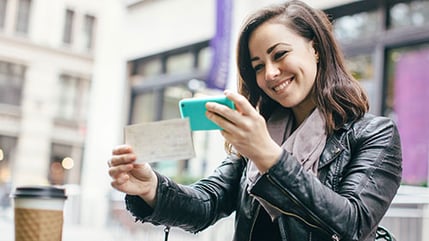 Finding time to visit your financial institution during business hours to deposit a paper check isn't always easy. Fortunately, you might have access to a 24-hour online check deposit option. If you have a smart device with a camera and a Wi-Fi or mobile data connection, this is a fast, convenient, and secure way to deposit funds into your account.
What is an online check deposit?
With an online check deposit, you use a mobile app to send an encrypted digital image of your check to your financial institution. Once you've completed this process and the check clears, your financial institution will place the amount in your account just like it would with a regular paper check. In an article for The Balance, financial advisor Justin Pritchard notes some institutions place restrictions on the amount of money you can deposit online and limit the types of checks that are eligible, so consult these policies or call customer service if you have questions.
How does online check deposit work?
To take advantage of online check deposit, you'll first need to download your financial institution's app to your smartphone or tablet. Once you've logged in, navigate to the online check deposit tool. Follow the instructions for endorsing your check. The app should then guide you through the rest of the process. This typically includes entering the amount of the check, selecting which account you want to deposit it in, and using an in-app feature to take a photo of the check's front and back. After verifying the check number and amount, you'll follow a step to complete the deposit.
After you've wrapped up this process, keep your paper check until you get confirmation that the deposit was successful. Depending on your financial institution's policies, you may also need to wait until the next business day to access your funds. Once the deposit is complete, follow your institution's instructions for marking, saving, or shredding the paper check.
How can I prevent online check deposit problems?
Despite the convenience of online check deposit, you may still encounter issues from time to time. Writing for NerdWallet, Jeanne Lee recommends making sure you're taking a picture of the check properly. To snap a clearer photo of your check, carefully remove any attached stubs or other pieces of paper, place it flat on a dark background, and position it away from shadows or light glare. Include the entire check in the frame — and no other objects.
Lee also suggests confirming your online deposit app is updated to the latest version so you can avoid any unexpected holdups. Another thing to watch out for: Is your Wi-Fi or cell phone signal strong enough? If it's not, this could impede your deposit. Finally, if you share financial responsibilities with a partner, make sure you've marked the check as deposited. Otherwise, your partner could redeposit the check and incur a fee.
Is online check deposit safe?
As long as your financial institution is carrying out proper safety and encryption procedures, online check deposit is a secure process. However, you'll still need to follow the usual steps to protect your information and reduce the risk of fraud. According to an article by Rebecca Lake for Forbes, it's important to use a unique password and update it regularly, use multifactor login authentication if it's available, and keep your smart device secured. Don't make an online check deposit or other financial transactions using public Wi-Fi, either.
First Federal's Online Banking gives you complete control over your finances. Whether desktop, laptop, tablet, or phone - you can easily take care of most of your banking needs. Click here to register today!