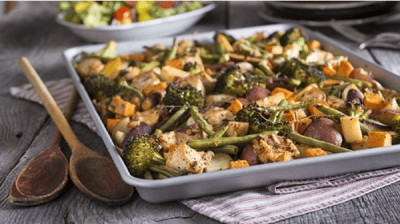 If you're looking for a way to improve your cooking skills in a creative way, consider turning toward a helpful podcast! These engaging shows are great for chefs of all levels and are great for learning something new about food and how to prepare it.
"Always Hungry With Bobby Flay and Sophie Flay"
Food Network legend Bobby Flay is working with his daughter Sophie in this banter-filled podcast. Together, the two discuss all sorts of recipes and argue about which coast of the U.S. has the best dishes. Along with the fun back-and-forth this father-daughter duo has, Bobby often teaches Sophie how to cook many basic yet delicious dishes like grilled cheese and fried chicken. Additionally, Bobby lets listeners know which ingredients you should always have in your pantry and what dishes every chef should know how to make.
"Gastropod"
One way to improve your skills is to understand more about the food you're cooking. That's where, "Gastropod," hosted by Cynthia Graber and Nicola Twilley, comes in. This duo discusses a new topic each week and they dive into the surprising science and hidden history behind different foods. In the podcast, the two speak to food science experts and visit locales like laboratories and archeological dig sites!
"Kitchen Counter Podcast"
If you want to go into the finer details of cooking and everything that comes with it, tune into the, "Kitchen Counter Podcast," hosted by Roger Anderson. Thanks to the informative host, you'll learn the difference between a paring knife and a chef's knife, what it means to poach an egg, how to measure different ingredients, and much more. Anderson claims the podcast and its community is a, "no judgement zone," so you should feel comfortable when asking questions and getting feedback from other listeners in online forums.
"Milk Street"
If you want to expand your palate to other countries' delicacies, "Milk Street" should do the trick. Host Christopher Kimball wants to showcase different flavors and layering of ingredients you might not have considered before. By inviting listeners to learn about ethnic cooking, Kimball hopes it will encourage at-home cooks to try new techniques and recipes that may have previously seemed daunting.
"Recipe Club"
Are you looking for ways to spice up your recipes? If you're ready to skip past the basics and learn how to add some pizazz to your meals, check out, "Recipe Club" with chef David Chang and writer Chris Ying. In every episode, the pair select a dish or ingredient and then cook it three different ways. The goal is to foster creativity in the kitchen and opens people's minds to changing things up with their favorite recipes. Maybe you'll find some inspiration when you listen!
The podcast world is expansive and this is only a taste of what you'll find when looking for some cooking inspiration. Do some research and you're sure to find a show that gets you excited about building your skills!