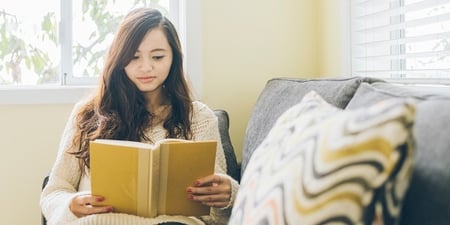 By this time next year, the world will be preparing for the start of the 2024 Summer Olympic Games in Paris, France. To help you get excited about what's to come, check out these must-read memoirs from Olympic athletes:
Catch a Star: Shining Through Adversity to Become a Champion by Tamika Catchings

Tamika Catchings is a retired professional basketball player with a highly decorated career, including four Olympic gold medals with the U.S.A. team from 2004-2016. She flourished in her college years at Tennessee before making her way to the WNBA in 2002 where she won a championship with the Indiana Fever (in 2012) and eventually the Olympic women's basketball team. Her book Catch a Star recounts how she faced adversity with her hearing loss as well as many other issues, like being separated from family, living up to the expectations set by others, and multiple injuries.
Grace, Gold, and Glory: My Leap of Faith by Gabrielle Douglas

Gymnast Gabrielle "Gabby" Douglas made her mark on Olympic history at the 2012 Summer Olympic Games in London, England. She was the all-around champion in 2012 and a member of the "Fierce Five" or "Final Five" in 2016 at the Summer Olympic Games in Rio de Janeiro, Brazil. Her 2012 book, Grace, Gold, and Glory details everything from her faith and perseverance to the determination and drive it took for her to succeed.

Landing on My Feet: A Diary of Dreams by Kerri Strug

If you watched the 1996 Summer Olympic Games, you likely remember when U.S.A. gymnast Kerri Strug performed a vault routine that clinched the gold medal — with an injured ankle. It was an emotional moment that played over and over on televisions and is hands-down one of the most iconic moments in Olympics history. In her 1997 biography Landing on My Feet, Strug details her childhood in Arizona, the training she underwent to get to Olympic status, her family and friends, and that stand-out moment in Atlanta, Georgia.

No Limits: The Will to Succeed by Michael Phelps

The most decorated Olympic athlete is none other than U.S.A. swimmer Michael Phelps. From 2004-2016, Phelps dominated television screens with his consistent wins and impressive performance in the water. Throughout this time, he struggled with severe depression. However, in the midst of all of this success, he released an autobiography in 2009, which became a New York Times Bestseller. In his book No Limits, Phelps details his path to success and how he prepared every four years for Olympic competitions.

One Jump at a Time: My Story by Nathan Chen

If you'd like to know more about a Winter Olympic athlete leading up to the 2026 games in Italy, consider picking up Nathan Chen's autobiography. The American figure skater won his first Olympic gold medal last year in Beijing. But beyond that, he is also a three-time World Champion and has been skating since he was just three years old. As a child of immigrant parents with five total children, Chen faced quite a bit of adversity. However, with the constant help and sacrifices of his mother (who became his coach), he persevered. All of this and more is detailed in One Jump at a Time, Chen's autobiography that was released late last year.

These incredible stories of trials, tribulations, and triumph are available at most major bookstores and local shops. Happy reading!