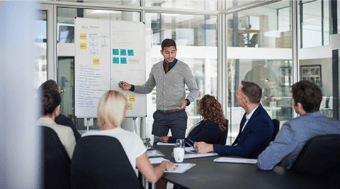 No matter how great your products or services are, your business will suffer if your reputation does. Controlling your company's image is a surefire step to continued success, helping you engage positively with customers and attract new ones.
Address your digital reputation needs
In the 21st century, the internet is the frontier through which word of mouth travels. Whether it's good or bad, you need to have your ear to the ground when it comes to what people are saying about your business.
Forbes Young Entrepreneur Council member Kalin Kassabov believes you can do a lot of groundwork yourself by setting up a Google Alert for your business' name. Whenever your business is mentioned on social media, a review site, or forum, you'll receive a notification.
To help channel the talkback about your company, Kassabov recommends claiming your Google My Business listing and getting set up on Yelp. This gives customers and consumers clear and consistent channels for reading and delivering feedback, making your reputation easier to maintain in the process.
Keep the focus on people
The key to your business' reputation is people — not just customers, but employees. Investing in the right staff and keeping people who share your vision and goals is crucial. Projecting a consistent image is important for your business, and it starts with people who will uphold that image.
It's also important to remember your business is part of a community at large, and your local image matters as well. Miksen recommends volunteering in the community and looking into outreach, which demonstrates your compassion for your neighbors. By showing people you care beyond whether they patronize your business or not, you give your business a positive aura that can help generate sales.
Speak up for your business
Once you're equipped to follow the conversation, you'll need to engage with your customers. Kassabov recommends responding to every review and comment about your business — even if the criticism is unjust or unfair. Issuing a positive, productive response to a negative review is a good way to own the criticism and put your business on top. By the same token, you'll want to thank reviewers for positive feedback and garner more by encouraging your customers to leave reviews online.
Responding to reviews can be stressful, but you don't necessarily have to be the one doing the work. While doing this yourself gives you more face-to-face access to what people are saying about your business, you can also entrust the task to a reliable employee who will represent your company well and offer candid debriefs.
Another option would be to bring on a person familiar with search engine optimization and digital reputation management. A specialist can monitor your online reputation and take actions like setting up a consistent social media presence or minimizing negative content, freeing you up to focus on other areas. Entrepreneur Neil Patel writes in his blog that you can also outsource the work to a digital marketing company, which can scale up efforts as your business grows.
Whether you, a specialist, or a company is overseeing digital reputation management, the positive impact on your business' reputation can be immense. If, for example, there's a widely perceived issue with the quality of a product, you can use the information gathered to make necessary changes. Chris Miksen, writing for the Houston Chronicle's Small Business section, recommends using your online platforms to announce these kinds of changes, showing customers that you are listening to feedback.
Reputation matters in business, so every action you take should bend toward creating the best face possible. With a sterling perception, you're more likely to gain new business and keep customers for the long haul.