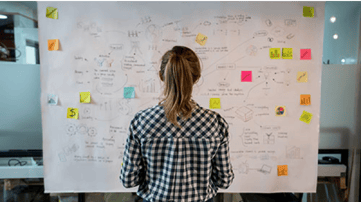 When you're starting a new business, analysis is key to getting off on the right foot. That holds particularly true if you're entering a field with established competitors and looking to make your mark. A great tool to get your business up to speed and put it in a position to compete is a competitive matrix.
What is a competitive matrix?
According to Rebecca Riserbato, staff writer for HubSpot, a competitive matrix is a visual analysis tool. The objective is to clearly lay out the strengths, weaknesses, advantages, and disadvantages facing your business and other businesses in your field.
Because a competitive matrix is meant to be easily digestible, Hunkar Ozyasar of The Houston Chronicle suggests it's a great method for communicating with potential investors. When you're seeking funding for your business, interested parties will want to know how you plan to get a leg up on your competition. By showing you recognize areas in which you can gain an advantage, you'll stand a better chance at demonstrating the value of your product.
But a competitive matrix is also simply a great way for business owners to look at the marketplace and strategize. Riserbato notes you can find areas where customer needs might be going unmet and use that knowledge in marketing and in developing solutions. This can also come in handy when sharing your vision with your team, letting employees see clearly how you plan to win.
What does a competitive matrix look like?
There is no one way to generate a competitive matrix. Entrepreneur's Small Business Encyclopedia notes a matrix can be something as simple as a chart that lists out the benefits of a product and service.
One popular example Riserbato puts forth is a two-feature competitive landscape chart, which lets you compare factors like price and product depth to other companies in your field. This allows you to see where you're sitting relative to other businesses and where you can make up ground. Another similar format is the SWOT analysis, which breaks down a business' strengths, weaknesses, opportunities, and threats.
What do you put in a competitive matrix?
No matter the style of matrix you choose, you'll need one thing to make it work: information. For this, you'll want to perform a competitive analysis. Entrepreneur's Small Business Encyclopedia calls a competitive analysis critical to putting together a marketing plan, and the information you derive from it is key to formulating a competitive matrix.
To carry out a competitive analysis, Entrepreneur recommends answering a series of basic questions. This includes who your competitors are, what products they sell, what strategies they've taken, and how they market their products.
You can also perform a SWOT analysis of your competitors here to pull out the information you'd need for a more visual competitive matrix by determining where they're strongest and weakest, how they pose a threat to your business, and what opportunities they leave open for you to capitalize.
If you're considering putting together a competitive matrix for your business, there are many great resources online. You can find templates and examples on reputable sites across the internet. With the information in hand, you'll be on a path to finding your foothold even in competitive markets.