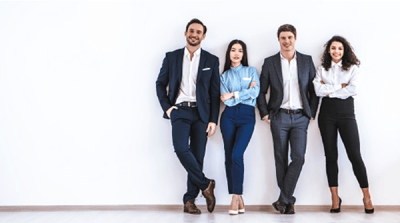 It's no secret your small business relies heavily on the hard work, dedication, and expertise of your workers. To attract, motivate, and retain employees who make your company's success possible, you'll need to pay them well. Establishing fair salary ranges will help you accomplish this, and here are some tips to guide you through the process:
Analyze jobs at your company
To construct fair salary ranges, start by analyzing all the jobs throughout your company so you understand the duties, skills, and significance associated with each title. Once you have this information, the Society for Human Resources Management recommends either splitting jobs into different groups with different pay grades or implementing a single pay-grade ladder for all jobs. No matter what system you use, make sure it's clear to all your employees so they can understand where they are on the scale and how they can achieve higher pay in your organization.
Consider your budget
As you work to ensure fair pay for your employees, be sure to create a budget for salaries — including current pay, raises, and benefits — and follow it. That way, what you pay matches what your company can afford. However, if your budget doesn't allow for an appropriate level of pay, you may need to reconsider your company's philosophy, structure, and scope so you can continue to attract and retain the necessary workforce. And remember your salary costs aren't just an expense — they're also an investment.
Factor in raises
As you determine salary ranges, be sure to factor in raises. You'll likely want to award them based on performance, and having a system for doing this will help you recognize and reward great work in as fair a manner as possible. It's also a good idea to plan on raises to reflect inflation. If you're still paying your employees the same amount that you were a few years ago, they're actually making less when you take rising prices into account.
Follow the law
Make sure your company's pay scale follows all relevant local, state, and federal laws. NerdWallet contributor Rieva Lesonsky notes employees classified under federal law as, "nonexempt" are entitled to overtime pay in addition to their regular wages. You'll also need to pay a minimum wage, which is $7.25 an hour federally ($2.13 for workers who collect tips) but higher in many states.
Pay attention to benefits
Benefits like health insurance coverage, retirement savings options, and time off are a key component of a worker's salary — so take them into account as you budget for salaries and set a fair pay range for your business. As an example, if the salaries you pay are slightly lower but you provide more generous health coverage or a higher-than-average 401(k) salary match, make this clear to current and prospective employees so they understand the full amount of compensation they're receiving.
Research the market
Before implementing salary ranges, it's important to conduct market research with the help of online resources, government statistics, and specialized data vendors. As part of your research, seek out average salary ranges for the relevant positions, similar jobs in your region, and your industry as a whole. You'll also want to take into account the cost of living in your area. Equipped with this information, you'll be able to compete more effectively for the most talented workers.
Following these tips will help your business establish a pay scale that's as fair as possible — a great way to gain a competitive advantage, draw the best workers, and set your company up for long-term success.