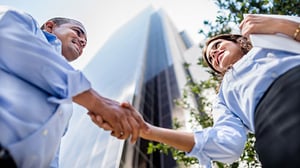 Whether your business is growing or a departure has left a vacancy, you need to hire a new employee. While the benefit of having that person join your company is valuable, the cost of hiring them — beyond their actual salary — can add up. To ensure you're budgeting accurately for your next round of hiring, keep all of these overlooked costs in mind.
Finding a new employee
Unless you already have someone in mind for the job or were lucky enough to have the perfect candidate show up on your doorstep, you have to spend time, effort and resources searching for the right person to hire. Writing for The Balance Careers, Susan M. Heathfield points out that you can either pay a recruiter internally to find someone — in which case you need to pay their salary — or you can pay the fees to hire a headhunter. The latter is a quick solution but can be much more costly.
According to Nikoletta Bika of Workable, recruiting tasks like posting the job on online boards, creating branded swag to distribute, communicating with applicants and conducting interviews and assessments all cost time and money.
Training them
Once your new employee has joined the team, they're not immediately ready to get to work. You need to spend time training the new hire so they're equipped to perform the job you hired them to do.
According to a 2017 study by Training Magazine cited by Investopedia, the average time spent training an employee is 47.6 hours, which can translate to about $1,886. Depending on how involved and complicated the work and employee's responsibilities are, that amount of time spent instructing, mentoring and checking work can vary. The cost of training also depends on if the employee's peers can perform training or if higher-paid managers need to sacrifice their time to oversee orientation.
Getting plugged in
Orientation involves more than just instruction: It involves the workspace and equipment preparation, too. Annie Mueller of Investopedia calls this "workplace integration." It can involve a varying amount of time and money depending on how much arrangement needs done. This could involve getting them licenses for software, obtaining furniture or equipment you don't already possess, printing business cards and identification badges, registering them for a work cell phone and even setting up their desk and chair.
Paying for benefits
Beyond the basic salary, the benefits you pay for your employees to be content and enjoy a healthy standard of living will cost you, too. Mueller points out that ongoing benefits like health and life insurance, disability and dental coverage, retirement plans and tuition reimbursement should be calculated for. Don't forget indulgences like on-site beverages, happy hours, holiday bonuses and vacation time.
The next time you need to hire a new employee, take time to crunch the numbers to decide which hiring, training and orientation methods are best for your company and budget.