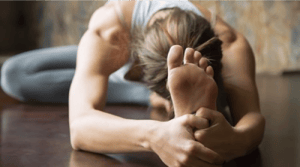 A regular yoga practice can improve your fitness, flexibility, and mindset. If you want to start a new yoga routine, consider these tips to get you off on the right foot:
Get the right equipment
Yoga can be a cheap form of exercise and doesn't require a lot of equipment. At the very least, you will need a good quality mat. Yoga mats are widely available for purchase from online merchants, or even some larger chain grocery stores. If you lack flexibility, consider investing in some foam blocks and a strap that will help aid your stretches and make them more effective. Gentler yoga practices such as prenatal may have you use a bolster and blanket for support and comfort, but most basic yoga sessions don't require these extras.
Choose online or in-person
If you are starting from scratch with your yoga practice, consider attending in-person classes so you can get hands-on instruction from a certified yoga teacher. A teacher will be able to help correct your posture in various positions so you know you're doing them correctly. If you're not comfortable attending an in-person yoga session, or they are not currently offered in your area, there are plenty of yoga videos online to choose from. Free YouTube yoga workouts are great; you can stream them anywhere, anytime. For a true yoga class feeling, consider signing up for virtual classes through a local studio. An added benefit to a virtual class is that you can get to know the instructor and ask questions as you settle into your new yoga routine.
Try different yoga styles
Brand-new yogis may be overwhelmed by the number of yoga styles out there. Research them all and decide which one sounds best for your fitness level. You can also try out several different style classes and decide which you like best.
According to Medium, hatha yoga is a good choice for beginners because it introduces poses and stretches slowly. As you become more comfortable with the basic yoga poses, consider vinyasa, which is fast-paced and can introduce an element of cardio to your practice. Hot yoga has gained popularity in recent years, but it's almost impossible to practice at home as it requires the room to be heated to around 105 degrees Fahrenheit, so it's best to try hot yoga in a specialized studio.
Establish a routine
One of the hardest things about starting a new form of exercise is figuring out a routine that works for you. If you're an early riser, try starting your day with a yoga practice as soon as you get out of bed. Or you might find a lunchtime or evening workout is better for you. Whatever time of day you choose to practice yoga, schedule it into your day as you would an appointment and commit to it.
Whenever you start something new, it can take a while to get into the routine. But if you stick with it, you may find that your new yoga practice becomes an important part of your daily life.