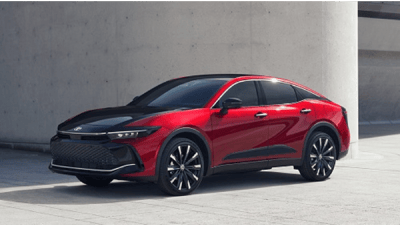 The auto industry is full of well-known cars that are continually being updated and revised for an ever-changing market. But occasionally, all-new models make their way onto the scene looking to make a big impact. Here are four brand-new models for 2023 that seem poised to do just that:
Chevrolet Corvette Z06
The Chevy Corvette Z06 has long been the best representative of the American sports car industry, a coupe that could challenge the top European products at a price that can seem like a steal, at least compared to a Ferrari. Historically, the Z06 is the most exciting version of the Corvette, a homologation special that serves as the platform for the car's GT racing variant. After Chevrolet launched the current-gen C8 in 2020 as the first-ever mid-engine Corvette, customers looked ahead to the Z06 package, expecting something truly exceptional. Now it's finally here —and it doesn't disappoint. "This is the world-beating supercar we always wanted the Corvette to be," writes MotorTrend editor Scott Evans. "Chevy can build a million Z06s, and each one will still be worth any price the market demands."
Nissan Z
After a 14-year run, the sixth-generation Nissan 370Z had overstayed its welcome. Finally, the seventh generation of the car is here for 2023. Powered by a twin-turbocharged V6 rated at 400 horsepower and 350 lb-ft of torque, it promises to be a major upgrade over its predecessor. "Nissan has revised just about everything," says Edmunds.com senior vehicle test editor Kurt Niebuhr. "There's a more powerful engine, improved handling and braking feel and capability, an updated cabin, and new technology features." The Nissan Z also represents a huge style makeover. Though the overall shape is clearly derived from the 370Z, the new model's clean lines and Z32-inspired taillights give it a distinctive retro-modern look.
Polestar 3
The Polestar 3 is Volvo's attempt to break into the U.S.'s highly competitive luxury SUV market. It runs on the Nvidia Drive computer platform to power a truly high-tech suite of driver-assistance systems, including hardware such as four ultrasonic sensors, three cameras, and a laser-powered LIDAR sensor. That's on top of software from Qualcomm, Google, and other major tech giants. It has 300 miles of range, a 400-volt battery, and 517 horsepower. "Polestar thinks it can win customers with its attention to detail and its commitment to an austere design as well as with its powerful computing package," says The Verge's transportation editor, Andrew J. Hawkins.
Toyota Crown
The Crown is Toyota's longest-running nameplate, having been in production since 1955. However, it hasn't been sold in the United States since 1972 — until now. For the 2023 model year, the Crown is returning to America as the automaker's flagship luxury sedan, a high-riding hybrid that represents an upgrade from the discontinued Avalon. "Drivers who trade in their Avalon sedans are in for an upgrade, especially if they buy a Limited or Platinum model," writes Car and Driver senior editor Drew Dorian. It has impressive fuel economy for its size, a generous amount of standard safety and infotainment technology, and high-quality materials at top trim levels.
These are just some of the brand-new models you can expect for 2023. As manufacturing, powertrain, and infotainment technologies improve, there's always a newer and better car to look forward to on the horizon.