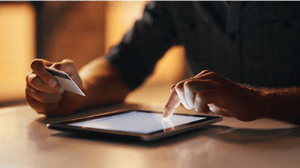 If you're inundated with requests by utility providers, department store credit cards, and insurance companies to "go paperless" but haven't made the switch to digital statements yet, you're missing out on some great benefits.
Here are three major reasons you should opt to receive your bills, account balances, and policy contracts via email instead of the mail carrier:
Better for the environment
The most obvious reason to go paperless is to reduce paper usage. By opting for digital statements, you'll be saving trees and helping the environment. Plus, "Fewer billing statements means less demand for paper and less air pollution from paper production," points out Latoya Irby of The Balance.
It's an easy way to reduce your carbon footprint, since paper waste is a large component of landfill waste. According to data collected by The World Counts, 10 liters of water is needed to make one piece of A4 paper, and paper accounts for 25 percent of landfill contents.
A reduction in paper usage won't happen automatically — you have to make the choice to convert. Based on The World Counts' research, "Lessening of paper usage was predicted due to the electronic revolution. It didn't happen. Demand for paper is expected to double before 2030." Wouldn't you like to help care for the Earth?
Less clutter
When you receive a letter in the mail, you have to decide what you're going to do with it. Do you file? Shred it? Throw it away? If you don't take action, you'll quickly develop a pile of clutter on your countertop.
If you receive your statements via email, you don't have to worry about physical clutter. "Switching to paperless billing means you'll never misplace a bill in a pile of junk mail, nor will you ever accidentally shred or recycle an unpaid bill because it decided to hide in the pile of credit card solicitations on your desk," explains Emily Guy Birken of Wise Bread.
You can still label, sort, and archive your digital statements similarly to filing paper printouts, but you can do so on your computer without having to find space for a filing cabinet. If you're worried about losing your records over time, some companies let you download your statements to save as PDF versions on your desktop.
Tighter security
You may assume emailing financial information would be less secure than sending in through the mail, but many financial experts argue the opposite. Consider how easy it would be for a thief to steal your mail or find it in your dumpster. It's a far easier feat than hacking into your private records on your computer network.
Latoya Irby of The Balance explains opting to go paperless provides a greater level of identity theft protection. "Since statements aren't mailed to your home, mail thieves won't get access to your credit card number if they intercept your mail."
How is this more secure? Birken explains emails from your credit card issuer should never contain your full account number. "Even if a scammer hacks their way into your inbox, they'd still have to hack their way into your bill provider's online account to access sensitive information."
If you're on the fence about going paperless and haven't made the decision yet, it's a worthwhile transition to make. You'll quickly see how simple receiving digital statements is and feel pride in how you're benefitting the environment.