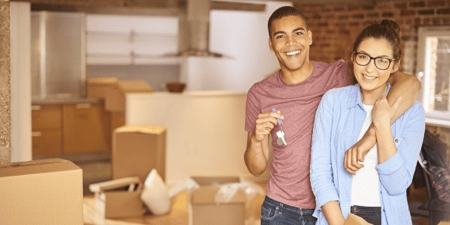 Moving to a new place can be incredibly stressful. One way to make things a bit easier is making a comprehensive checklist that covers many aspects of your upcoming move.

Donate or sell unneeded items

Rather than paying movers to haul a ton of things you don't use or need anymore, go through all of your possessions and donate what you can. You may need to have a Marie Kondo moment and ask yourself if certain things, "bring joy" to your life or if you're just holding onto them for no reason.

By getting rid of some stuff, you're lightening your overall moving load, which may reduce the cost. Not only that, but you might be able to sell some gently used items and use that extra money for the move.

Don't forget about perishable food items as you get closer to your moving date and try to use them up to avoid waste. Lastly, hazardous items like flammables, candles, or cleaning products may not be allowed on a moving truck, so be sure to get rid of those as well.

Inventory everything

If you hire movers, you'll likely be asked to provide a monetary value for all of your possessions in case of any damage or loss. It's best to create an inventory and estimate a value for each item. This will also help you when you're unpacking to ensure that everything arrived safely. You can handle this with pen and paper or go digital with Excel spreadsheet templates and mobile apps.

Research moving companies

Do your research when it comes to moving companies before scheduling. Unfortunately, not all companies are going to do the best job. But if you look at reviews — specifically ones that aren't on the company's website where they can pick and choose what you see — you'll get real-life details about what others have experienced. Don't be afraid to ask around at work or with friends to get suggestions, too. If you don't plan on using a moving service, do your research on the costs of a truck rental and packing supplies like boxes, bubble wrap, packing paper, a dolly, and more.

Prepare your travel needs

Set aside any items you'll need when traveling to your new home. This includes clothing, toiletries (including toilet paper), and food. Be sure to take any important documents and records with you when moving, rather than putting them on the moving truck, to ensure they don't get lost or damaged. Finally, prepare your route and figure out where you'll be staying overnight if it's a long haul.

Get your car serviced

It's vital you schedule a maintenance check-up for your vehicle before you travel a long distance. Getting stranded on the side of the road during a move will add an insurmountable amount of stress that can be avoided with a simple trip to your local dealership.

Pack things yourself

If you want to save some time on moving day or if you just prefer to handle certain fragile items, pack up some of your boxes on your own time. Doing so will give the movers more time to get larger items, like furniture, wrapped up and on the truck.

Set up mail forwarding

The United States Postal Service (USPS) makes it easy to set up mail forwarding on its website. All you have to do is visit its change of address page and follow the instructions. The USPS suggests setting up mail forwarding well in advance to ensure that you get all of your items.

Transfer utilities, insurance, and memberships

While you're handing mail forwarding, go ahead and complete any other clerical work. This might include updating your auto and home insurance as well as local memberships. Transfer your utilities, too, like electric, water, internet, and television.

Clean your old home

Depending on where you live, you may need to clean your home prior to leaving. If you put down a security deposit, this is likely where you'll need to focus to get that money back.

Your specific move may require this list to be adjusted, especially if you're moving to another state or country, or if you have kids or pets. But by being prepared, you're setting yourself up for a successful new chapter of your life!