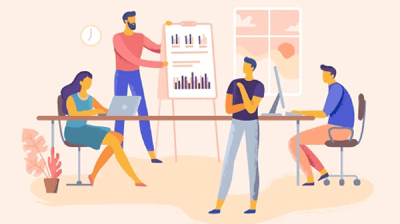 To help increase your profits and make your business more well-known in your community, you should focus on ways to improve visibility.
Accept and utilize feedback
When you have an online presence, you are opening your business up to feedback. This can come in the form of positive and negative reviews or comments on social media. Stay on top of responding to these messages to let people know you take their feedback seriously. Track everything you receive so you can assess areas of improvement as well as your company's strengths. If you encounter negative feedback, be sure to respond publicly by acknowledging the comment and then direct the customer to reach out privately. This will show other people that you do value their feedback and that you care enough to make the situation right.
Build a network
You do not have to rely on the internet to help people become aware of your business. You can go the old-fashioned route and simply network with those around you. One way to let people know about your company is to create business cards and posters you can place around town, in coffee shops and other public places. Just be sure to get that location's approval before leaving items with your company's information on them. You can also attend networking events for small businesses, where you will have the opportunity to meet other business owners and connect on mutual experiences or create beneficial partnerships.
Maximize SEO
If you do not have a website for your business, set one up as soon as possible. With people using smartphones every day and searching online for goods and services, it is more important than ever to have an online presence. If you already have a website, be sure you are utilizing Search Engine Optimization (SEO) to increase relevant website traffic. SEO is a set of processes that improve the positioning and appearance of web pages in organic, unpaid, search results. You can attempt to handle this yourself by taking online courses about SEO or you can outsource this as an expense and leave it to the experts. You will also want to be sure your website is user-friendly on desktop and mobile, with a design that is appealing without being overwhelming.
Use the power of social media
Another online tool for improving your company's visibility is social media. Some of the top sites include Facebook, Instagram, Snapchat, TikTok, Twitter, and YouTube. While not all of these platforms will work for your business, it is important to familiarize yourself with all of them to see what you can capitalize on. If your competitors are doing well on a certain site, it may be in your best interest to set up a profile and attempt to do the same. Just be sure what you post is original and engaging. Users tend to stay away from generic content that has nothing to do with a company, or content that seems spammy. If you are unsure where to start, consider how each platform is used. A visual platform like Instagram would be ideal for displaying products, while video platforms like TikTok and YouTube might be good for showcasing how you provide a service.
These tips should go a long way in improving your company's visibility and help you connect with current and potential customers.