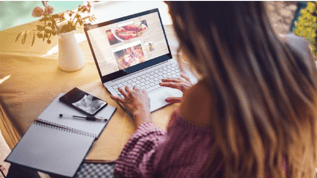 When it comes to marketing your small business, it's often said content is king. And it's true — by adding quality blog entries and pages to your website, you can build your brand, boost your website's relevance, and attract new leads. Here are a few reasons to consider investing in content for your website:
Supercharge your SEO
Want your company to rise to the top of the Google search rankings? Strategically designed content can help. To get the most bang for your buck, focus your content around target keywords for your industry. Fresh material and lengthy pages lend your website credibility in the eyes of internet search algorithms, so you can't go wrong by adding quality content to your site.
Build trust
You're already an expert in your field — and your website can help you demonstrate that to readers. By posting regular, in-depth blogs about topics, issues, and solutions relevant to your target market, you can establish yourself as one of the foremost names in your industry. Frequent updates will keep readers coming back for more valuable information, potentially encouraging them to purchase what you're selling.
Create a community
Where viewers and readers gather, a community is bound to form. By regularly publishing interesting, informative content, you build more than an SEO-friendly website — you can attract an audience that appreciates your brand's personality, values, and goals. Take the time to respond to commenters. In addition to helping you foster a connection with your readers, you can use it as an opportunity to learn more about your audience. Sprinkling a bit of humor into your content can help foster a more personal connection with your customers.
Expand your online presence
By posting content to your website or company blog, you're building a library of useful articles that can establish your brand. A well-stocked library of content can attract readers organically, via search engine results. New content allows you to explore a broader variety of topics relevant to your industry, expanding your reach on the internet and drawing a more diverse set of readers to your website. And as a bonus, the content you create or commission can do double duty — it can also serve as a stream of material to post to your organization's social media page.
Generate leads
Clicks and views are great, but you're likely looking for more than internet fame — you want sales leads. While your website's content won't specialize in advertising directly to the reader, useful content is a trusty way to get potential customers hooked on your brand, or lead them to learn more about the products and services you offer.
If you'd like to take your digital marketing efforts to the next level, ensure your website is full of high-quality content. To figure out what kind of material to include, consider performing market research, asking a consultant, or discussing your plans with your management team or business partners.