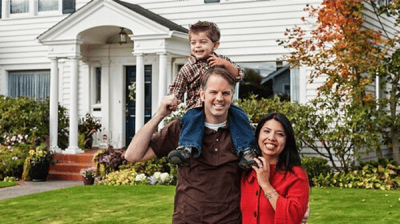 At First Federal Bank, we understand that many first-time home buyers face an additional challenge of having non-existent credit history. It's important to remember that while your credit score may be limited, it doesn't mean you can't be trusted to repay a loan. We offer alternative loan options with flexible credit requirements to help those with limited credit histories become homeowners.
Accept now, refinance later: If you are approved for a home loan with a limited credit history, you don't have to stay with that high interest rate for the entire duration of the mortgage. Making your monthly mortgage payments and utility bills on time can raise your credit score and you can revisit your financial situation in a few years to see if it has changed.
Apply for an FHA loan: A government-insured mortgage is backed by the Federal Housing Administration (FHA). This grants more flexible credit requirements, enabling countless first-time home buyers to purchase a house. Other options you may qualify for include VA loans or USDA loans.
Discuss alternative options: Every lender has different criteria for approving home loan applications, so don't assume that a lack of credit history will disqualify you. Speak with a representative in person to discuss other ways of proving your financial reliability. Manual underwriting is when the lender takes the time to verify your financial situation by hand rather than relying on an automated process or computerized assessment.
"The First Time Home Buyer Program grant is an incredible opportunity for those who are looking to make their first purchase. Not only does it provide a financial cushion, but it does so without dictating a higher interest rate or additional fees. It's a great way to get started on the path to homeownership." - Matt Krasnoff, Sales Manager for First Federal Bank, Ft. Mill, SC
Get a cosigner: If you don't have a good credit score, perhaps someone you know and trust does. Ask a spouse, relative, or close friend to be a co-borrower on the loan. Their good credit score may be enough to help you qualify for a better mortgage arrangement.
"Establishing a credit score is an important factor for home buyers. Fortunately, there are several loan options available such as FHA and USDA loans that can help those with limited credit, tight funds, and lower credit scores. Exploring these options can help make the home buying process easier and more successful." - Stan Lindsey, Regional Sales Manager for First Federal Bank, Panama City, FL
At First Federal Bank, we want to help new home buyers achieve the dream of homeownership, even if it means going the extra mile to explore alternative loan options. We are committed to helping you find the most suitable loan for your financial situation. Contact us today to learn more about our loan options and to get started on your path to ownership.