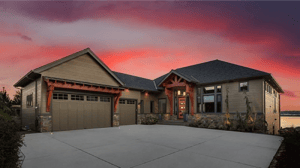 First Federal Bank provides you with online and mobile banking services, credit and debit cards, plus checking and savings accounts. But did you know that we can also help you borrow money for your home?
Whether you are looking to buy, build, or refinance your current home, we have a variety of loan options to assist you with finding the best rate and term, to fit your project and budget. These mortgage solutions include:
"We offer a variety of banking and mortgage products to assist you with whatever it is you need," said Alex Vugman, First Federal Bank Mortgage Expert. "Whether it's building a new dream home, purchasing an existing one, or simply refinancing a loan that you already have – we do it all and we do it with the highest customer service and very competitive rates."
Evaluate your options with our free tools or with one of our mortgage experts. Discover how long it will take to break even on a mortgage refinance or see how much you can borrow for a new house.
We've been helping families achieve their dreams of home ownership since 1962. Let us help you finance the home of your dreams today.
"We are here before, during, and more importantly, after you close your loan," Vugman added. "We're here to support you with whatever it is you need as your community bank."
If you'd like to get connected to a Loan Officer near you, fill out this brief form and we will contact you within one business day.