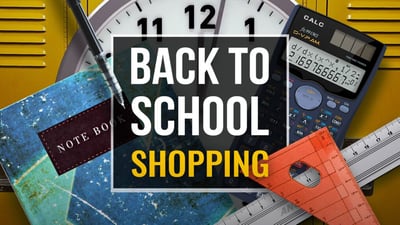 Time flies, and in just a few short weeks, kids will be heading back to school! You know what that means - it's time to stock up and save! These tips will help you get the most out of your school shopping this year:
Shop during the sales tax holiday
In Florida, consumers can purchase qualifying back to school supplies exempt from sales tax from Monday, July 25 through Sunday, August 7. No longer just a tax-free weekend – the savings have been expanded in 2022 to last a full 14 days! In South Carolina, there is a tax-free weekend from August 5 through August 7.
Know what is included
During the sales tax holiday period, tax is not due on the retail sale of:
• Clothing, footwear, and accessories with a sales price of $100 or less per item
• Most school supplies with a sales price of $50 or less per item
• Learning aids and jigsaw puzzles with a sales price of $30 or less
• Computers and accessories with a sales price of $1,500 or less, when purchased for noncommercial home or personal use.
For a detailed list of included items, visit the Florida Department of Revenue or South Carolina Department of Revenue. You can save on hundreds of items!
Make a list and stick to it
Your child's school should have provided you with a list of needed items. That information will also often be posted to the school's social media accounts and website. If you don't see it, ask for the details. Make note of what your student will be expected to bring to the classroom, then add to the list other items included in the sales tax holiday they need. Don't just head out and start shopping. Plan in advance, to avoid buying more than you require. Thinking ahead can save you money, too. Buy your child's current size and one larger on clothing staples during the tax holiday, and you won't have to pay full price plus tax later on.
Use coupons and price-matching
Before you make a purchase, scan the items in your cart to make sure you are getting the best deal. Sites like Amazon have a barcode reader and will pull up the item. If you can find it for less at another retailer, take the proof to the store's register and ask for a price match. If they can't do it at the register, they should be able to at customer service. Most stores will honor their competitor's coupons as well. It's always worth asking!
BONUS TIP!
Earn rewards while you shop for back to school with your First Federal Bank debit card and the uChoose Rewards program. You can earn points at hundreds of retailers, including Belk, Kohl's, Old Navy, Sam's Club, and Walmart. Redeem the points you earn for merchandise, travel, gift cards, even cash back! Register your First Federal Visa Debit Card at uchooserewards.com, keep track of your points, check for online specials, and redeem points for travel, gift cards, merchandise, even cash back!
One of the most stressful parts of the back-to-school season can be making sure your children get everything they need without breaking the bank. Follow these tips and shop with confidence this year!