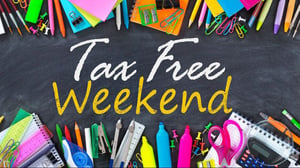 The Back-to-School season may look different for a lot of families in 2020. School districts are currently exploring the safest ways for students to begin the new academic year, and finalizing their plans. Many are offering a variety of options for parents to choose from.
One thing will not be changing; you will need to purchase supplies to help prepare your child for a successful learning experience. And according to the National Retail Federation's annual Back-to-School Spending Survey, released earlier this month, consumers expect to spend a record amount of money this year.
Regardless of what Back to School will look like for your family, you can follow these tips to save on your supply purchases:
Take an inventory of what you have – One thing many families may neglect to consider is the supplies they already have on hand. Before you start shopping, take stock of the unused items around your home, or even in your child's backpack from last school year. You may find you have less to buy than you originally thought. And there is nothing wrong with recycling or reusing old supplies. Why not take some and make them new again with these fun DIY school supply ideas?
Shop during tax-free weekend – Every year, states around the country exempt certain purchases from sales tax as families look to the new school year. Items include most school supplies selling for $15 or less, clothing, footwear and accessories selling for $60 or less, and computers and accessories selling for $1,000 or less. In order to be eligible, the products must be purchased for personal, noncommercial use. The dates for this year's tax-free weekend in Florida and South Carolina are August 7-9.
Compare and save – Most major retailers hold special sales for back to school. Make sure to do your research so you know where to find the best deals. And don't forget about price matching policies! Stores like Staples and Walmart will match their competitors' deals or even beat the price. So, if you notice discrepancies from store to store, you can often hit up the most convenient one and still get all the best deals. Comparison shopping can really pay off!
Think beyond the start of the school year – While you probably have a list from your child's school or teacher for Back to School, think about all the extras items you have had to purchase throughout the school year in the past. Why not buy those items during the tax holiday and save? And while your child may not need new clothes at the moment, they will grow. The cost of buying clothing and shoes for your child on an annual basis can really add up, but so can the savings if you don't have to pay tax. Why not buy a size or two up from what your child is currently wearing during the tax holiday?
Use your First Federal debit card – Earning rewards with your First Federal Bank debit card is easy with the uChoose Rewards program. You can earn points on everyday purchases at hundreds of retailers. Shop at participating stores and watch your points add us faster. Redeem points for merchandise, travel, gift cards, and even cash back! Register your First Federal Visa Debit Card at uchooserewards.com, keep track of your points, check for online specials, and redeem points for travel, gift cards, merchandise, even cash back!
We all have our eyes on ways to save money this year. Back-to-School shopping offers many opportunities. And saving on the things you need always feels good!