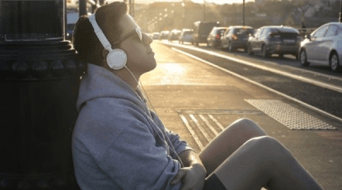 The events of 2020 canceled many travel plans. It's understandable if you're eager to get out and see the world. But whether you're a seasoned traveler or a newbie adventurer, some expert advice can help your trip run smoothly. Here's a handful of helpful, informative podcasts to get you ready for your next journey:
"Amateur Traveler"
Can't decide where you want to go on vacation? "Amateur Traveler" might be able to help. This award-winning weekly podcast boasts a library of more than 600 episodes, each focusing on a specific locale. It'll help you plan your dream vacation with insider information on sites ranging from domestic spots like the country's national parks, all the way to distant destinations including Greenland, the French Polynesian archipelago, and the Amazon River in Colombia.
"Extra Pack Of Peanuts Travel Podcast"
For more cost-effective travel tips, check out the "Extra Pack Of Peanuts Travel Podcast." Hosted by husband-and-wife team Travis and Heather Sherry, this podcast features advice for cash-strapped travelers along with fun guests who've achieved monumental feats, like summiting the tallest mountain in each African country. On top of that, they offer practical tips on how to manage long flights, where to find good food in specific destinations, and plenty of list-style advice.
"Flight of Fancy"
Travel writer Ben Groundwater presents "Flight of Fancy," which invites industry experts and seasoned travelers to share their firsthand experiences. You'll get to learn about the good and the bad of traveling. The show features everything from tense international border crossing stories to funny accounts of kitschy tourist traps. And since each episode is just 30 minutes long, it's a perfect podcast for your daily commute.
"Indie Travel Podcast"
If you're on a budget, but still want to see the world, check out the "Indie Travel Podcast." Since the show began back in 2006, hosts Linda and Craig have been showing globetrotters how to have fun, memorable, and debt-free adventures. The hosts and their many expert guests will show you how to travel on a budget, manage kids on vacation, and fill you in on affordable attractions.
"Travel With Rick Steves"
You probably know Rick Steves from his many travel guides or long-running show on PBS. Now, you can enjoy more of Steves' seasoned advice on his weekly hour-long podcast. He interviews guests about various cultures and locations around the world and provides audio tours for different locations, so you can have a free travel guide by your side when you finally get to take that dream vacation.
"Where to Go"
This podcast was brought to life specifically for travelers whose plans have been quashed by the pandemic. Produced by the DK Eyewitness crew, this podcast delves into how the COVID-19 pandemic has changed both iconic destinations and the way we travel. Although this podcast is a relative newcomer to the scene, its timely approach to the topic makes it worth a listen.
"Women Who Travel"
Brought to you by the crew behind the Conde Nast Traveler magazine, this show is all about what it's like to travel internationally as a woman. The podcast got its start as a Facebook group, where travelers could seek information and candidly share their experiences. The podcast posts a new episode every two weeks, but the show has a huge library of episodes that cover a broad variety of topics.
Whether you're planning your next big getaway or simply looking for some free-spirited escapism, these travel podcasts are sure to fuel your wanderlust.