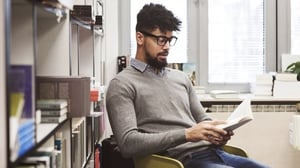 Whether you're dedicated to armchair travel or fantasizing about an epic trip of your own, these books about real-life journeys will spark your imagination and satisfy your craving for adventure.
"Nomadland" by Jessica Bruder
In "Nomadland," author Jessica Bruder provides an insightful and in-depth look at the increasingly large subculture of Americans who live in their own vehicles as they travel across the country and work at temporary jobs. Bruder committed to extensive and immersive reporting for this book, taking on tough warehouse and field jobs and living in a van of her own while profiling the often difficult and dangerous lives of America's modern-day nomads.
"A Walk in the Woods" by Bill Bryson
This uproariously funny travel classic chronicles the misadventures of writer Bill Bryson and his hapless pal Katz as they attempt a long-distance hiking trip on the Appalachian Trail. You're sure to learn a lot while you're laughing, because Bryson seamlessly blends his hilarious first-person narrative with fascinating background on the ecology, history and cultural significance of this iconic 2,000-mile path.
"The Lost City of Z" by David Grann
"The Lost City of Z" tells the true story of the intrepid British explorer Percy Fawcett, who entered the Amazon rainforest in search of a legendary ancient city — and was never seen again. David Grann's nonfiction narrative reads like a pageturning thriller, and the stakes get even higher when the author decides to follow in Fawcett's footsteps with a jungle journey of his own.
"Confederates in the Attic" by Tony Horwitz
The American Civil War ended in 1865, but its consequences live on in many ways. In "Confederates in the Attic," writer Tony Horwitz takes a fascinating trek across 10 Southern states to explore how this bitter conflict still resonates. Along the way, the war's endless legacy comes to life as the author meets colorful battle reenactors, chats with obsessive eccentrics and witnesses how racism intertwines with the myths of the South's Lost Cause.
"Hidden America" by Jeanne Marie Laskas
In this riveting and thought-provoking book, reporter Jeanne Marie Laskas goes behind the scenes to learn about the working-class Americans whose dedicated labor forms the country's backbone. As part of her travels around the country, Laskas explores coal mines and migrant labor camps, rides with a long-haul trucker, spends time on an oil rig and interviews landfill workers — all the while amplifying the voices and experiences of workers whose efforts are too often overlooked and undervalued.
"The Stowaway" by Laurie Gwen Shapiro
In 1928, the famed explorer Richard Byrd set out on an expedition to Antarctica, where he planned to be the first person to fly a plane across the continent. A daring New York teenager sneaked aboard Byrd's ship — and proceeded to experience the adventure of a lifetime. Laurie Gwen Shapiro's book brings this story to life in exciting detail while vividly portraying the turbulent years when the Roaring '20s gave way to the Great Depression.
Even if you aren't able to head out on a trip of your own, you'll immediately be transported far away from your everyday routine when you begin reading one of these intriguing travel tales.