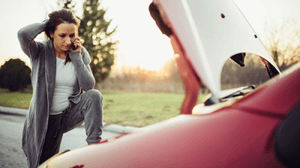 When it comes to driving, it's always wise to expect the unexpected. Even the most prepared drivers can be caught off guard when unforeseen issues arise. Tires can go flat; car batteries can die and accidents can leave you unable to continue driving. That's where roadside assistance comes in handy. Knowing that help is only a call, text, or button push away provides essential peace of mind for drivers, and assurance that even the most minor of vehicle-related emergencies can be safely taken care of. Here are some common occurrences that warrant roadside assistance:
Flat tire
Perhaps the most common roadside emergency you may experience is a flat tire. Changing temperatures, worn rubber, and dangerous items on the road can cause enough damage to derail your travels, but in many cases, the fix is quick and easy. Since most cars come with a spare tire, jack, and tire iron, changing the damaged tire on your own is certainly an option. However, the team on the Allstate blog cautions that if you don't know how to change a tire or don't have a way to do so safely, it's always best to let the roadside assistance experts perform any necessary maintenance.
Dead battery
This is another common issue for drivers. When a car battery dies, the easiest solution is to jumpstart it with another vehicle's battery using jumper cables. These cables should be an essential part of any vehicle emergency kit, and learning how to properly and safely use them is equally as important. If you find yourself stranded without access to another vehicle battery or working cables, roadside assistance is your best bet. Using jumper cables incorrectly can damage your car and its electronics, and in the worst-case scenario, CarParts.com reports that it can even start a fire or explosion. Calling for professional assistance is far safer than flagging down a random driver, and will ensure you are given the best help possible.
In need of a tow
If you find yourself broken down or in an accident, calling for roadside assistance is imperative. Doing so will get both you and your vehicle off the road quicker, and ensure your vehicle makes it safely to a repair shop. Be sure to research local towing companies and keep their phone numbers at hand in the event of an emergency. Your insurance may also cover towing, so be sure to contact your provider with any questions about coverage and trustworthy towing companies.
Out of gas
Another common problem for drivers is running out of gas. While keeping a close look at gas levels is the responsibility of the driver, things do happen. Empty gas cans kept in your trunk can be helpful, but this means a potentially long walk to the nearest gas station — and you shouldn't keep full cans in your car because of the fire risk. Allstate's team reports that a call for roadside assistance can get you the gas you need to keep driving, but bear in mind you will still need to pay for any gas you put into your vehicle.
Locked out
Getting locked out of your vehicle is a frustrating experience, and can be caused by a number of factors. Lost keys, broken locks, and key fobs with dead batteries can block you from getting into your vehicle, and can derail travel plans or keep you from important destinations. If you don't have a spare key or an easy way to get a hold of one, Safety.com reports that roadside assistance can help.
Finding yourself in need of roadside assistance can sometimes feel like an uncomfortable situation. But when the unexpected happens, staying safe and getting the help you need is the most important thing. No matter the situation, roadside assistance is ready to help.