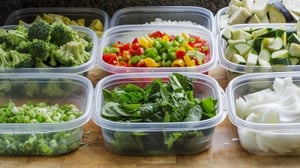 Cooking a flavorful, succulent meal can take a long time … unless you have a pressure cooker. This brilliant invention can do the work of an oven, wok or slow cooker in a fraction of the time. Plus, a pressure cooker allows you to prepare healthy meals that also taste delicious. Here are some recipes for example.
Low-carb chicken kale soup
Soups are a cinch to make in a pressure cooker, such as a low-carb chicken kale soup suggested by Urvashi Pitre of Two Sleevers. Put the following ingredients in your pressure cooker: 2 cups of cooked chicken breast, 12 ounces of frozen kale, a chopped onion, 4 cups of chicken broth, 1/2 teaspoon of ground cinnamon, 1/16 tablespoon of ground cloves, 2 teaspoons of minced garlic, 1 teaspoon of black pepper and 1 teaspoon of salt. After five minutes of cooking and 10 minutes of gradual pressure release, you'll have a light but savory soup with a unique blend of flavors.
Salmon, sweet potato and broccoli
If you want a more filling meal that's still grain-free and paleo, check out this dish by Anna Monette Roberts, food editor of Brit+Co. After spraying the inside of the pressure cooker pot with olive oil, place two peeled and diced sweet potatoes in the bottom with 1/4 cup of water, sprinkled with salt. Place a compatible trivet atop the potatoes and layer it as such: thin orange slices, two frozen salmon fillets skin-side down, a sprinkling of seasons (your choice of blend), another layer of orange slices and a small oil-sprayed aluminum bowl with broccoli inside. After only a couple minutes of cooking on high, you can immediately release the steam and serve the contents.
Vegetarian frittata
You can also make simple, nourishing breakfast meals in a pressure cooker, too. Anna Monette Roberts also has a great recipe for that, which she shared on Brit+Co. Pour a cup of water into the bottom of the basin and place a trivet above. Spray a compatible cake pan with oil and fill it with a 3/4-cup mix of sliced veggies, like onion, red pepper, a sliced garlic clove and thawed, drained frozen spinach. Whisk seven eggs with a teaspoon of garlic salt and pour atop the cake pan. Sprinkle with shredded mozzarella cheese, cover with aluminum foil and cook on the trivet for five minutes on high pressure. After 10 minutes of gradual pressure release, you can remove the pan, serving it with diced tomato, sliced green onion and low-fat sour cream as garnishes.
Spaghetti squash
You can save yourself a lot of time making spaghetti squash in a pressure cooker instead of in the oven. Plus, the pressure cooker keeps the squash from drying out or losing its noodle-like form. If you follow the directions of Karen Rankin from her recipe on Cooking Light, you prepare the spaghetti squash as you normally would, cutting it in half and scooping out the seeds. Then, pour a cup of water in the trough, place a trivet inside and put the squash halves on top. After cooking for seven minutes of 10-15 minutes of pressure release, the squash should be cooked, allowing you to scrape out the contents and serve it as you want. Karen suggests tossing it in olive oil, thyme lemon zest and salt.
Whether you're making an entire meal in a pressure cooker or only preparing a component of it, this handy kitchen appliance can make your healthy eating habits much easier to stomach.