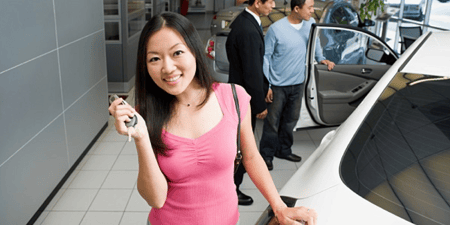 If you're in the market for a new car, you may be wondering whether it's better to get an auto loan through a financial institution or the dealership. While getting financing at the dealership may seem like the easiest option, there are several reasons you may want to consider going through a financial institution instead:
Avoiding dealer markup
When you get an auto loan through a dealership, they often act as a middleman, connecting you with a lender and taking a commission for their services. This can result in dealer markup, where the dealership adds extra fees and interest to your loan in order to increase their profit margin. Dealers both add a markup to the interest rate offered and are incentivized to send you to certain lenders, even if you could find a better APR elsewhere. By going directly to a financial institution, you can avoid these additional fees and potentially save yourself a significant amount of money. Dealership salespeople may even pressure you to finance at their location because they earn commission. Representatives at a financial institution are less likely to put pressure on you, as it doesn't necessarily benefit them if you take out a loan.
Better customer service
Getting an auto loan through a financial institution may provide you with better customer service than a dealership loan. Financial institutions often have dedicated loan officers who can answer your questions, guide you through the loan application process, and provide ongoing support throughout the life of your loan. If you miss a payment, you might talk directly to someone at the bank and explain your circumstances. But if the loan is through a lender with no direct relationship with you, they're more likely to cut their losses and move on. This personalized service can be a welcome contrast to the often impersonal experience of dealing with a dealership.
Lower interest rates
One of the top reasons to get an auto loan through a financial institution is the possibility of a lower interest rate. Dealerships may advertise specific perks known as promotional financing. But keep in mind these are reserved for borrowers with strong credit. Otherwise, dealership financing often don't offer the most competitive rates. Make sure to shop around and research interest rates to get a better grasp of your options.
While it may be tempting to take the easy route and get an auto loan through a dealership, there are several compelling reasons to consider going through a financial institution instead. From lower interest rates to avoiding dealer markup, there are many benefits to be gained by working directly with a financial institution for your car loan needs. Contact First Federal Bank today to learn more about your options.