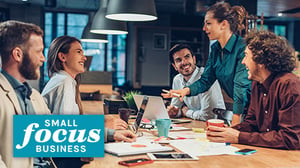 When it comes to marketing, there are many ways to reach your audience. Website content, social media and advertisements can all help your business succeed, but you need to make meaningful connections with customers to create a bond of brand loyalty. Consider the moments that matter in your business and what you can do to make them memorable.

Defining the term

A moment that matters, according to Liz Richardson of marketing firm Influitive, "is a transformative snippet of time where someone does something that makes a lasting emotional impression on how you feel about them and your relationship with them." The team at Google breaks down moments that matter into four general categories: want-to-know, want-to-go, want-to-do and want-to-buy. After you consider what moments matter happen in connection to your business, you can then move on to ways that you can make them even better.

Look closely

To create moments that matter, you need to know how your customers interact with your business. When the team at Pilot Flying J wanted to focus on moments that matter, Jessica Bergmann writes for Salesforce that they first streamlined their data for a complete picture of their customers. Making your information easier for your marketing staff to understand will give them a more complete picture of your customers' experiences and help them tailor an experience for their needs.

Impress your customers

Marketing with moments that matter is all about being at the right place when your customer needs you, says Bergman. This means that you should use your data to find places where you can improve your customer's buying journey and do them better than anyone else. If you run a retail business and many of your clients are parents, you could impress them by providing easy product pick-up options to cater to their what-to-buy moments that matter. When you own a restaurant, you could add a feature to your website that shows families how busy your dining room is so they can plan the best time to visit.

In the case of Pilot Flying J, the company serves truck drivers and road trippers looking for a place to rest and refuel on their trips. Once it knew more about its customers, the corporation created an app that allowed truck drivers to book ahead and know they had a place to park, easing drivers' want-to-go experience. Beyond that, the app used location data to tell when the truck arrived onsite, asking the customer if they wanted to reserve a shower time. The company could anticipate their customers' needs and make transactions as painless as possible.

Just ask

If you're a newer business and don't have a lot of data to work with, or your current strategy isn't working, don't despair. Consider interviewing your staff and customers to learn more about opportunities they see. Matt Lawson, Google's director of ads marketing, wrote in 2016 that employees at Sephora noticed that customers were on their phones a lot, making the company afraid that they were shopping on a competitor's website. When it talked to customers, however, it learned that many of them were desperately trying to remember past purchases to get the right foundation color or avoid a duplicate lipstick color. Now the Sephora mobile app and website have an easy-to-find section that tracks past purchases and recommended products from personalized beauty demonstrations.

If you want to make a deeper connection with your customers and cultivate brand loyalty, consider diving deep to find those key moments that matter. Talk to a marketing firm for help sorting through your data and making a complete customer picture.