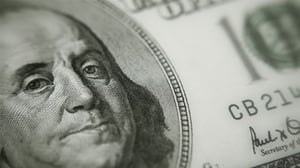 What Should You Do with the Money You Receive from the CARES Act?
The COVID-19 pandemic is not only a significant health crisis, it is also an economic one. Nearly all Americans are currently under a stay at home order. Every aspect of daily life has been impacted. Many people are feeling a strain financially.
The $2.2 trillion Coronavirus Aid, Relief and Economic Security (CARES) Act was signed into law by President Trump, to stimulate the US economy and help Americans. How much you will receive - and when - is determined by a number of factors.
Individuals with an adjusted gross income under $75,000 will receive a one-time check of $1,200. Couples making under $150,000 will receive $2,400, plus $500 for each dependent child under the age of 16. The payments are not subject to tax, and even those who owe back taxes will receive the funds. For people who earn up to $99,000 as an individual or $198,000 as a couple, the amount received will be reduced. Anyone who earns above those amounts will not receive a check.
If you have direct deposit information on file with the IRS, you will receive your stimulus funds first. Processing will begin as early as April 13. The IRS will use 2018 or 2019 income tax return information to generate payments, whichever they have that is most recent. If you do not have direct deposit information on file, physical checks will be mailed. That is expected to take more time. Paper checks will be issued beginning May 4, at the rate of approximately 5 million per week.
If you have not filed an Income Tax Return in the past two years, or do not have direct deposit information on file, the IRS does plan to develop a web portal to allow you to update your information and track the status of your payment. For the most up-to-date information, visit www.irs.gov/coronavirus/economic-impact-payments.
No matter when your funds arrive, here are some smart ways you can use the money:
Cover essential expenses
If you have experienced a decrease or loss of income as a result of the coronavirus outbreak, you may be having difficulty paying bills and purchasing essentials for your family. If that is the case, your stimulus check could help fill in the gaps. Take care of your immediate needs first, like food, housing, utilities, and insurance. From mortgage lenders to utility providers, many companies and financial institutions are allowing deferred or missed payments with no penalties during this crisis. If you are a First Federal Bank mortgage customer, click here to contact us. Be sure to reach out to see what kind of assistance is available to you. And look for every opportunity to save on the things you need.
Start or boost your savings
The current situation has certainly helped demonstrate the importance of having an emergency fund. If you haven't already established one, your stimulus check could offer a perfect opportunity to do so. You want to have three to six months' worth of expenses saved up. If you already have that set aside, you can apply your stimulus check toward other savings goals. A simple savings account can earn interest over time. And while markets have been unsettled, financial planners say it is actually an excellent time to invest, particularly if you are in a position to think long term. You could also use this opportunity to open a savings account for your children, or set up a college fund using the $500 you will receive for each of them.
Pay down debt
If your income has not been affected, and you have a good handle on savings, this could be an excellent time to work on reducing your debt. Making a significant payment on a credit card or loan would lesson your debt load and the amount of interest you owe. In another move intended to support the struggling economy, the Federal Reserve has cut interest rates. This will have an impact on most credit card rates. Many lenders are also offering waived interest during the crisis. Take advantage, but be sure to read the fine print.
Spend locally
Companies large and small have been hit hard by the COVID-19 pandemic. If you have the financial ability, think of ways you can support your favorite local businesses. Look for family-owned restaurants currently offering take-out meals. Purchase a gift card from your favorite independent retail store to use once the crisis has ended. Order online if possible from local businesses where you normally shop. Be sure to refer your friends to the businesses you love, and spread the word on social media. And don't forget local charities! Your donation could make the difference in helping them continue to provide services at a time they are most needed.
Financial advisors overwhelming recommend you not use the funds from the CARES Act for discretionary spending. These are unprecedented times for most living Americans. Focus on needs versus wants, and on taking the steps necessary to protect your financial position, for today and the future.
To check your eligibility or the status of a stimulus check, visit the IRS website: https://www.irs.gov/coronavirus/economic-impact-payment-information-center