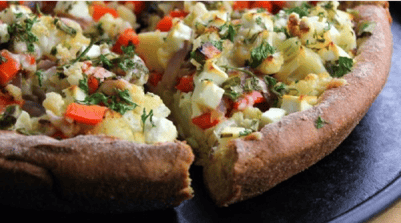 Pizza is a fantastic dish because of its versatility. It's easy customize with your favorite toppings and sauces. If you're looking for new ways to personalize your home-cooked pizzas, have you considered using sandwiches as inspiration?
Here are some recipes to get your culinary gears turning. For each of these, you can make your own dough from scratch, buy pre-made dough, or use a pre-baked pizza crust. Just make sure you prepare it accordingly.
Cuban pizza
The famous Florida sandwich deserves more attention, and transforming it into a pizza is a great way to introduce it to your family. Just follow this simple recipe from Kristen Aldridge's website A Mind "Full" Mom.
Use 3 tablespoons of yellow mustard as the sauce, spreading it across the pizza dough. Sprinkle 1/2 cup diced ham, 2 cups cooked shredded pork like carnitas, and 1 cup shredded Swiss cheese. After baking it for 12-15 minutes at 425 degrees F, top it with 1/4 cup chopped dill pickles.
Philly cheese steak pizza
The signature sandwich of the City of Brotherly Love makes an excellent pizza — especially if you follow this recipe from Marzia Aziz on her website, Little Spice Jar.
It begins with the sauce. Warm a small saucepan on the stove to medium heat and melt 1 tablespoon butter in it. Use a whisk to mix in 1 tablespoon flour. After a minute, gradually stir in 1/2 cup cold milk and 2 cloves pressed garlic. Once it simmers, sprinkle in a little salt, black pepper, and nutmeg. Remove the pan from heat and stir in 1/4 cup Parmesan cheese.
Top the dough with the sauce, followed by 1/2 green bell pepper that's been sliced, 4 large sliced mushrooms, 1/2 sweet onion sliced very thinly, 6 ounces cooked sliced steak or roast beef, and 1 1/4 cup mozzarella cheese. You can warm the veggies in a skillet for a couple of minutes beforehand if you want to make them softer on the pizza. Bake the pizza in the oven at 475 degrees F until the crust is golden brown and the cheese has melted, about 12-15 minutes.
Reuben pizza
A favorite sandwich for many people, the classic corned beef dish can easily be adapted to pizza form, as explained by user FITZWIFE on AllRecipes.
The sauce is simply 1/4 cup of Thousand Island dressing lathered across the dough. Cover that with 1 cup shredded Swiss cheese and then 6 ounces sliced corn beef strips. Drizzle another 1/4 cup of dressing on top and 1 cup rinsed, dried sauerkraut. Sprinkle another cup of cheese on top and 1/2 teaspoon caraway seeds.
You can bake the dough before loading it with toppings, and then just warm it in the oven for 10 minutes at 375 degrees F.
Sloppy Joe pizza
It's a messy sandwich, but it makes a delicious pizza! Check out this recipe from Brenda Rohlman, who contributed this recipe to Taste of Home's website.
Brown 1/2 pound ground beef in a skillet. Make sure the meat isn't clumping. Drain the meat, keeping it in the skillet and stirring in 1 can sloppy joe sauce. Spread the meat over the crust, as this will serve as the sauce too. Sprinkle a combination of cheddar cheese, mozzarella cheese, and Parmesan cheese on top (the more, the better).
For this recipe, it's better to bake the dough beforehand since the meat can get … sloppy. Afterward, you only have to warm the pizza for a couple minutes in the oven to melt the cheese.
What other sandwiches do you love that could be adapted into a pizza? Think of some ideas with your family and try one out this month.